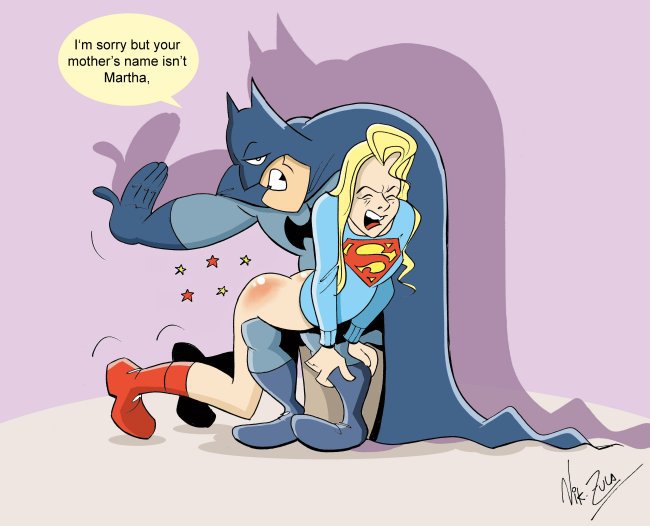 Art by Nik Zula. Characters © DC Comics Inc. Posted by the Web-Ed on 8/05/2016 (click to increase in size).
So why is Batman delivering some heat to her bared super-seat here? We think it has to do with all those stupid alternate versions of every character in the DC Universe (with the possible exception of Beppo the Super-Monkey). There are five different Supergirls already, and this is perhaps supposed to be a sixth one, Kara Kent from the future, hence the reference to her mother's (should be "grandmother's"?) name of Martha (i.e. Martha Kent, the foster mother of Clark Kent). The only problem is that that Supergirl is the daughter of Superman and Lois Lane and inherited (or will inherit) both her parents' black hair. This Supergirl has blonde hair like the one us old folks remember fondly from the Silver and Bronze Ages of comics. (Her foster mother's name was Edna Danvers, not Martha Kent). Maybe Zula was as confused by the history as probably everyone else is now that we've "explained" things. Anyway, let's take a second look at the actual spanking.
Zula's basic style is one of humorous, angular caricature but he usually draws the bottom round enough to preserve some degree of eroticism in his art. He doesn't often use a camera angle like this one, where the spankee's rear is not directly visible, but as this was a commission it may be the commissioner desired this point of view. (Zula is still taking commissions, so contact him at the address you'll find at his blog - link above - if you're interested). The OTK position is a little unusual with Supergirl really arching her back, generally more useful in the bending over spanking positions rather than OTK. Having her hold onto Batman's leg is nice, as is her expression that indicates she's feeling the heat!