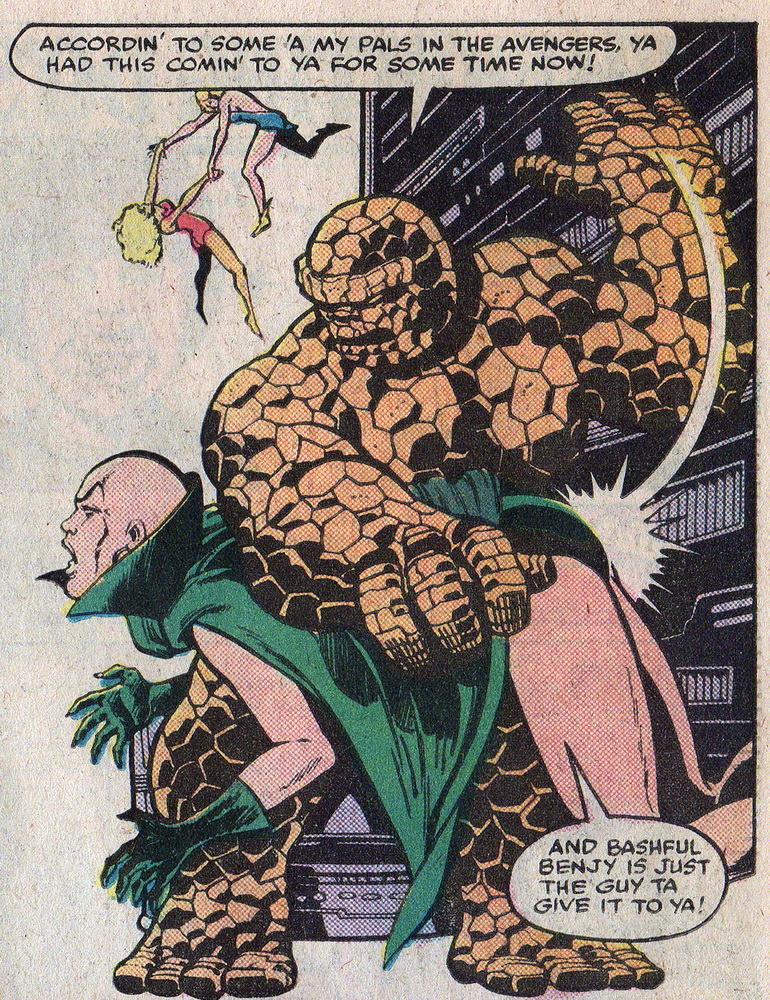 From Marvel Two-In-One #62 (April 1980, click to double-size). © Marvel Comics Group
The arrogant Moondragon gets her comeuppance courtesy of Benjamin J. Grimm, a.k.a. The Thing. We imagine a hand that huge must really hurt -- too bad, Moondragon! A few pathetic, politically correct readers wrote to complain that the scene was "sexist" (they may have meant to decry by implication any possible sexual overtones, but if so they didn't have the guts to just say so straight out). In a similar vein, the editor somewhat implausibly denied this charge -- Ben would have done the same thing with a male character, etc. -- although in taking this approach he did manage to avoid the unstated allegation of spanking fetishism.
12/04/2015 Update: This was one of the early pages we did, so we thought it high time we upgraded our scans of the spanking scene and added more of the surrounding story. Below you can see from her brutal attack on Benjy (which got her nowhere) and her sheer arrogance in calling herself a "goddess," Moondragon really did deserve to get spanked! Two other historical notes: this is one of only four known examples of a superhero spanking a superheroine in an actual comic, and it was also the only spanking in Marvel comics during the entire 1980's. We only wish penciller Jerry Bingham had given Moondrago a rounder butt. At least she does seem to be feeling it, with the classic "eyes closed, mouth open" expression!