It's been almost forty years since Bernie Lettick's classic cover for the September 1975 issue of National Lampoon, and it remains an iconic illustration beloved by spankos everywhere. We're going to see two examples of art inspired by the piece, beginning with this one by Jack Moon.
It looks like our student's father rather than her teacher is adminstering the discipline this time, but the positioning is similar and the argyle socks leave little doubt as to the source of Moon's inspiration. "Moon" is a great pseudonym for a spanking artist, but we don't know his real name or even what other drawings he may have done. The spankee's legs are positioned like the student's on the NL cover, but her arm is pinned behind her, which is a difference, and of course the slide rule has been replaced by a more traditional spanking implement, the hairbrush. Good effort by Moon, who also provides some homey details like the family dog and the poster of a cute bear (possibly Winnie-the-Pooh) on the bedroom wall.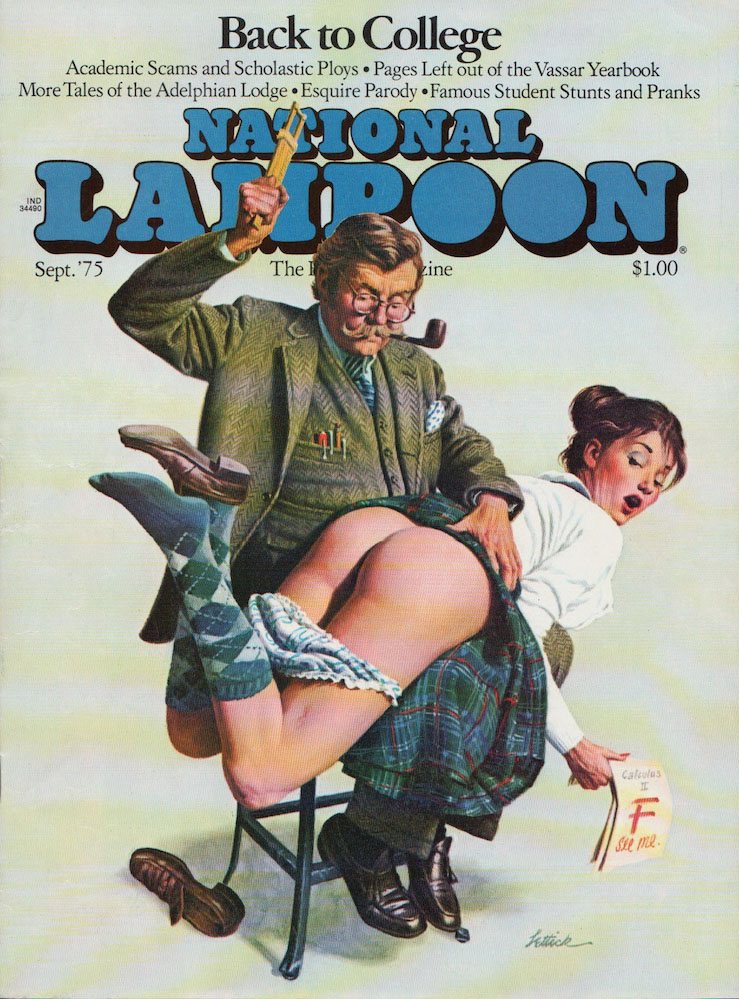 The classic spanking cover from the September 1975 "Back to College" issue of National Lampoon. Art by Bernie Lettick. © NL Communications (click to go to the complete page).
A young lady receives a hairbrush spanking, probably from her father, when her report card shows less-than-satisfactory progress. Art by Jack Moon (click to increase in size). Posted by the Web-Ed on 9/12/2014.