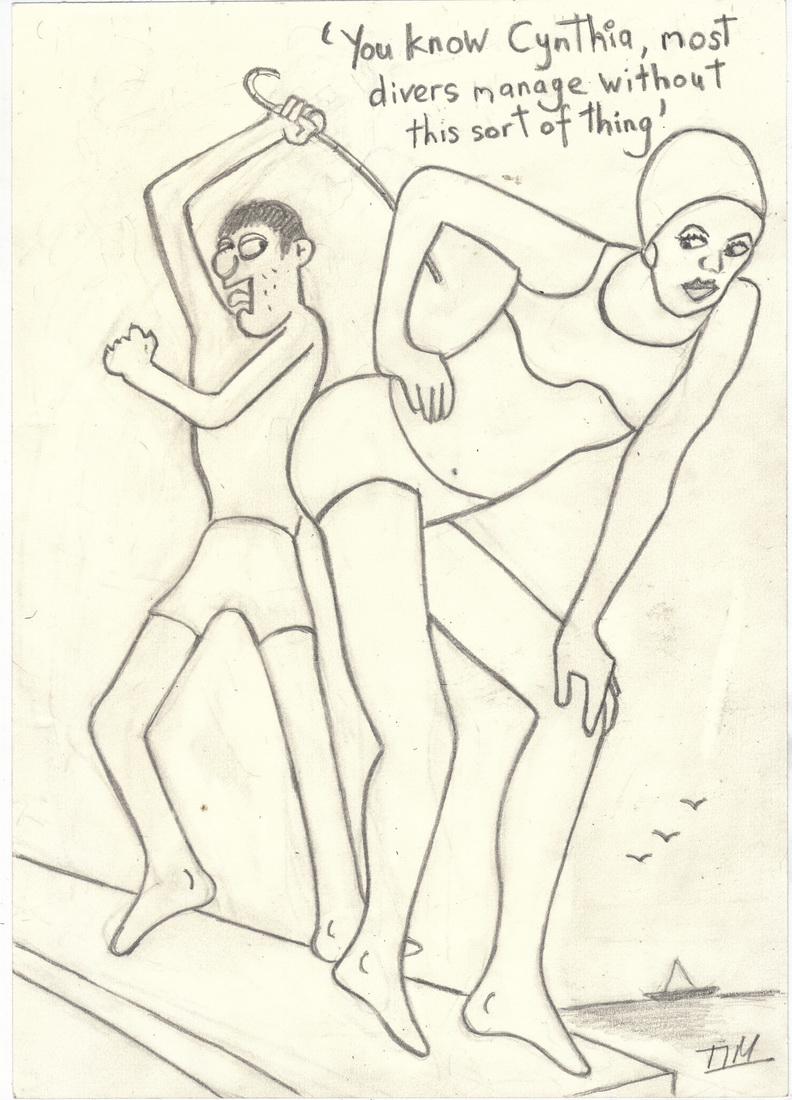 Created by Tim. Posted by the Web-Ed on 03/20/2015
With the resumption of the Humorama Series, the time is now ripe to resume Tim's series of Humorama Pastiches as well. We're going to take them a bit out of order and look at #10 next.
"The Diver" seems to have a less-specific style of Humorama cartoon in mind to parody than the entries we've seen up to this point. The use of the cane here suggests George Morrice, the only British member of The Big Six Humorama spanking cartoonists. But it's plainly implied that the spankee is turned on by having her trainer (one presumes) urge her off the diving board with a stroke of the cane, and Morrice never did that - his spankees are mostly rather chagrined, much to our viewing delight. The background elements remind us of Kirk Stiles, who also occasionally showed us a spankee enjoying her predicament, yet the drawing style doesn't suggest that of Stiles.
Perhaps the way to look at this cartoon is to see it as a very general parody of the Humorama "spanker". Its humor derives from two factors: the physical comedy, almost Burlesque, of having a diver "encouraged" to make her dive with a stroke of the cane (and Burlesque elements did show up from time to time in the Humorama cartoons, especially in their early days), and the erotic humor in showing the spankee deriving pleasure from the strokes.
Once more we express our gratitude to Tim for drawing this and to Michael for sending it to us.