The Lois Lane Spanking Letters
, which among other things detailed the case for spanking Lois, was just posted yesterday. Today I obtained a copy of
Lois Lane
#56 (April 1965), which provides even more justification for taking Lois OTK. Here's the very first page, showing us "The Snoopiest Girl in History":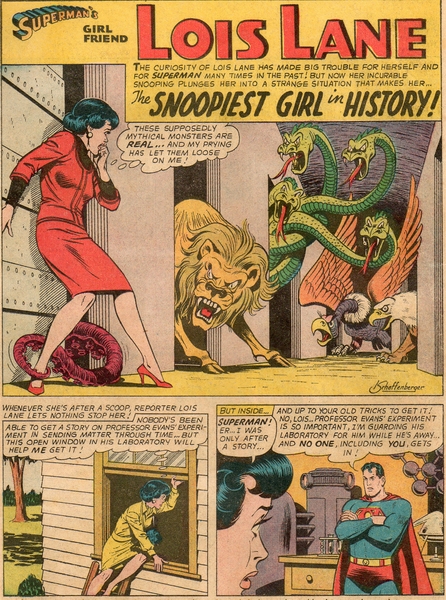 Lois breaks into some scientist's laboratory, only to find a stern-looking Superman barring her way. But did he administer an object lesson she wouldn't soon forget? No! The result was that Lois goes back into time and (I'm not making this up) opens Pandora's box!
Later that same issue, Superman once again concludes he needs to teach Lois a lesson (and Lana, too). And once again, instead of the quick, effective, and humane method of spanking, he elects instead to rig an elaborate masquerade, pretending to be someone called "Ideal-Man"!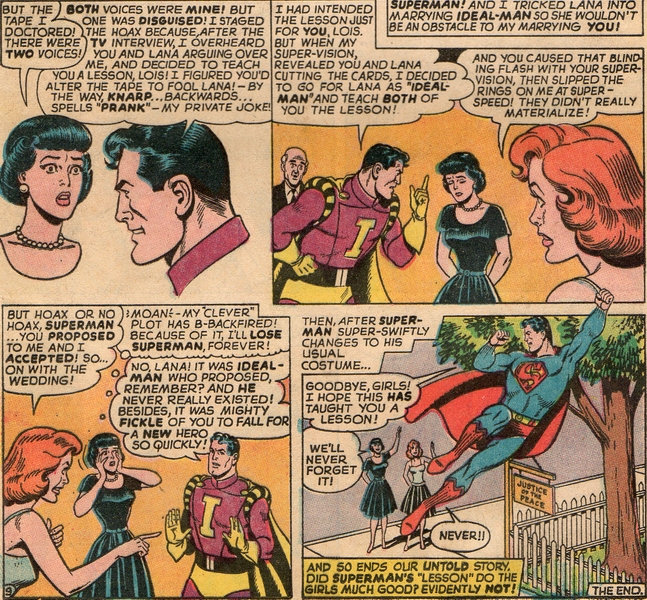 Two
very
interesting things about that last panel:
1. The final caption asks a question only to answer it. "Did Superman's 'lesson' do the girls much good? Evidently not!" And what conclusion should be drawn from this, we ask? That Superman should have used sterner methods.
2. Kurt Schaffenberger drew Lois and Lana with their right hands in such a position that they could be rubbing their sore behinds! Was this Schaffenberger's way of commenting on the story, implying that it would have been much better had there been a double-spanking of Lois and Lana? What a great scene that would have been, and you could keep the dialogue exactly the same!