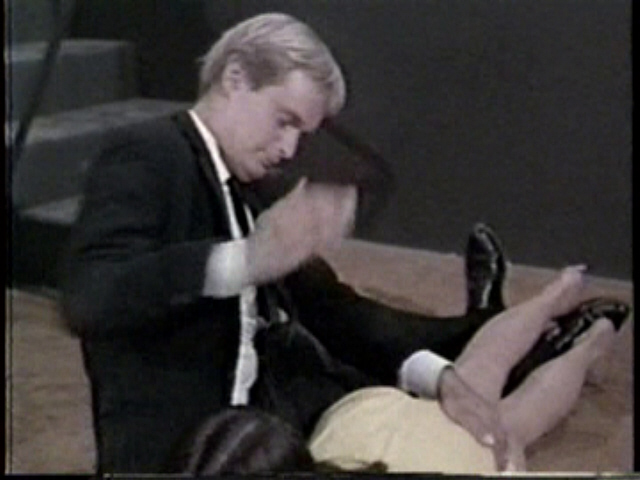 David McCallum, about to bring the long arm of the law down on Victoria Young's backside.
There has been occasional discussion of these two scenes from The Man From U.N.C.L.E. (see Spankings in TV: What If? on the CSR Forum and Interrupted/Offscreen Spankings on Chross's Message Board), and recently an actual request that we post clips of these scenes, so let's go ahead and do just that now.
Some background: both episodes date from 1966, a time when spies were in vogue - the early James Bond films, the movie Our Man Flint, and Get Smart on television all date from approximately this time period. These last two were spy spoofs, and perhaps the producers of The Man From U.N.C.L.E. intended it to fall into the same category, but it was really more goof than spoof. The idea of a U.N.-run intelligence organization never made any sense, with the Soviet Union trying its best to first undermine and then conquer the West, and from our vantage point today, after another forty-five years of the U.N.'s utter failure to bring any semblance of peace or security to the world, it seems positively laughable. Why would you share your best intelligence with the very people who are trying to destroy you?
Nonetheless, American Napoleon Solo (Robert Vaughan) was paired with Russian Illya Kuryakin (David McCallum), which already made a mockery of the show's title before it even got off the ground - it should have been changed to The MEN from U.N.C.L.E. once it became apparent that Solo wasn't going solo any more (in fact, his name should have been changed for the same reason). The show never rose above comic-book level - Nick Fury, Agent of SHIELD (also from this era) battling HYDRA was as believable as U.N.C.L.E.'s fight against THRUSH!