<!- IMAGE ->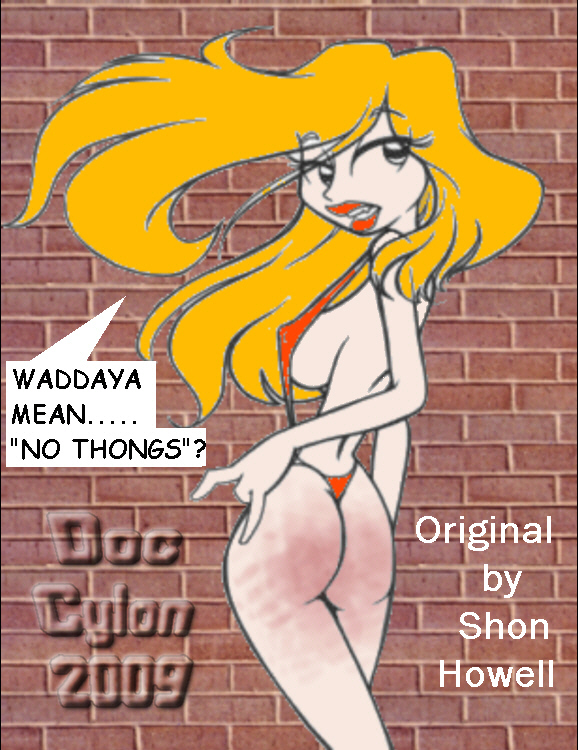 posted by the Web-Ed on 10/16/2009
Just in time for Halloween we have Vampirella, in a series of three drawings altered by Doc Cylon. First up is this effort from Shon Howell, set (in Doc Cylon's view) at the beach. Now, Vampi's costume was always so skimpy (see below for another illustration and further explanation) it did look like the the beach was the only place it would have been appropriate. Apparently, this beach has a "no thongs" rule which Vampi doesn't appreciate. It is not clear that she has been spanked for violating the rule, but what a nice idea! Can someone tell us where to apply for the job of enforcing laws like these, where the violators are all female and the punishment is a good spanking?
<!- IMAGE ->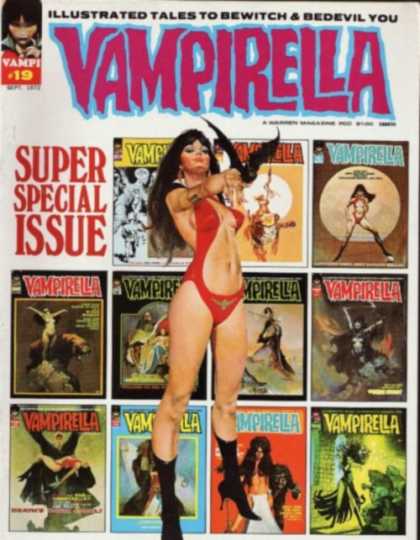 Vampirella #19, art by Amanda Conner and Jimmy Palmiotti
© Harris Publications
Vampirella first appeared forty years ago in September 1969. As you can see from the accompanying cover, Vampi's costume was conspicuous by its absence. If you're wondering how Warren Publishing could get away with something this risque (by the standards of the time), the answer is that Vampirella was a black and white magazine rather than a comic book, so it was not subject to the stringent requirements of the comics code (as a matter of fact, superheroine costumes lost a whole lot of material in the next few years anyway - not that we shed any tears when this happened). We were certainly aware of Vampirella and its sister titles Eerie and Creepy, but we were never into horror titles so we didn't read them, and never fantasized about spanking Vampi the way we did Supergirl, Batgirl, etc. Vampirella was never spanked in her own magazine, so we are more than happy to remedy that deficiency here with the help of the good Doctor.