//
Welcome to the Chicago Spanking Review!
Updated every Friday
Last Updated 12/07/2018.
[Please note: CSR is not a blog; therefore, to get the latest updates you may have to hit your browser's "refresh" button or purge your internet cache. This is true of all static (no script) web pages, by the way.]
Go directly to latest updates.
Our Motto:
"Wherever there's danger, wherever there's trouble, wherever there's important work to be done - we'll be somewhere else, looking for more spanking material!"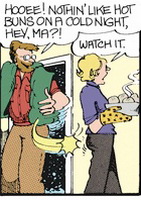 This week's featured update: John smacks Elly on the butt in For Better or For Worse. We say swatting your wife's fanny is always for the better.

Chicago Spanking Review is a Chicago-based free on-line journal of information and opinion on the the spanking scene, intended for those interested in the subject of adult spanking. Our goals are:
Present stimulating photos and drawings (including comic-book spankings, a special interest of ours), placing them in social/historical context where possible.
Provide a forum to promote discussion and an exhange of information among spankophiles.
Publicize spanking social events, especially those taking place in the American midwest, to encourage greater participation in them by members of the spanking community.
Explain the importance of using proper techniques for both safety and satisfaction.
For more about who we are and what we stand for, please click here.
CSR was designed to be easy to navigate - from here on the home page you can reach almost any other page on the site with only two mouse clicks - but it is a very large site, and if you're having trouble finding your way around, try the search box above or take a look at the Navigation Page. For spankings taken from comics books and strips, you can also search the Comics Spanking Data Base (see button below).
All pictures and artwork have thumbnail images to help you locate what you want to see. Click on the color-coded radio buttons below to go to the section you want. Scroll down past the radio buttons to find links to our most recent updates.
Christmas Time is Here!
| | |
| --- | --- |
| | |
| She may have meant well, but Santa's little helper obviously wasn't paying close enough attention to what she was doing when she lettered that sign. A good spanking from Santa will help focus her concentration. Art by CSR Resident Artist Overbarrel. | It may not be candy, but it sure is a cane, and this young lady finds out that Santa has a different kind of toybag just for naughty girls like her. |
| | |
| Santa spanks model Ana Beatriz Barros. | Santa Claus is Comin' to Town - is he ever! "He knows if you've been bad or good" - and it looks like this grown-up bad girl has been very naughty indeed. From an old issue of Playboy. |
| | |
| Cody shows us the ideal Christmas present to give that special girl in your life. Drawing by JayEm courtesy of the old Colorado Spankers website. | Now let's see that Christmas present in action! |
| | |
| For crying out loud, it's Christmas again, and it looks like our bare-bottomed spankee is crying out loud already! | All we want for Christmas is Mary Marvel positioned like this with her skirt flipped up out of the way while we take careful aim with our favorite paddle, and we'll have a merry time indeed! |
| | |
| We certainly understand the temptation, but it's unwise for a shopping mall Santa to spank those grown-up bad girls. | Santa gives a switching in the snow. It could be a little cold outside, but it is a nice-looking setting. Art thought to be by Angus Old. |
| | |
| From the spanko's perspective, the most fascinating Christmas legend has to be that of Krampus, a creature who accompanies St. Nicholas at Christmas time. While good St. Nick dispenses treats and presents to good little boys and girls, Krampus administers corporal punishment to the bad children (more information on Krampus here). In this drawing by Paigey, Krampus is re-imagined as a female who applies some birch rods to a naughty girl's bare bottom. | This one is thought to have come from a German postcard of the 1930's or 40's. It actually strikes us as rather risqué for the era, an erotic OTK spanking pretending to be purely "for Your Sins". This bad girl is obviously very grown up, and with a full, round bottom that tempts the application of the serpent-whip (the least erotic part, actually - why couldn't the artist just have drawn some birch rods?). |
| | Michael sent us two more cartoons by Tim, just in time for Christmas 2012. In the first of these, a wife hangs her stocking with a note admitting she's been a bad girl all year, so her husband dons his Santa suit and takes her right across his knee! This is a great fantasy for a spanko couple, although as noted you have to be careful not to make so much noise you wake the kids. |
| | In the second, a woman gives her man a pair of slippers for Christmas, only to have one of them applied to her bottom in true British style (the slipper has certainly been used for spanking here in America, but it's not as common as it is across the pond). This will give her a warm glow on a cold Christmas morning! |
| | Brian Tarsis did this one for Shadow Lane, and it was later modified by Pablo who then sent it to us. A Christmas-season shoplifter finds out that the Christmas spirit only means she won't be turned over to the law, but she will be turned over the knee! |
| | Bawdy Bard came up with this humorous follow-up to the classic Christmas cartoon How the Grinch Stole Christmas in which the Grinch pays another visit to Whoville years later and spanks the now grown-up Cindy Lou Who. He actually wrote a longer story, but this is the only spanking panel. Kevin Karstens illustrated BB's Seuss-style verse. |
Our Departments - enjoy!
(Press the color-coded buttons to go to the section you wish)
ARTICLES - Understanding the Whys and Hows of Spanking
Updated 04/28/2017
COMICS GALLERY 1 - Spankings in independent art featuring characters from comic books and strips [spanking art]
Updated 08/31/2018
COMICS GALLERY 2 - Spankings from actual comic books and strips [spanking art]
Updated 12/07/2018
COMICS SPANKING DATA BASE - Searchable, detailed information on every spanking from comic books and comic strips we can find.
Updated 12/07/2018
DOCTOR CYLON'S WORLD - And a unique world it is, filled with spankings and red bottoms! [spanking art, colorizations and animations]
Updated 06/29/2018
EVENTS in the scene
Updated 01/11/2017
FICTION - Stories by Doc Cylon, Helena, Leilani, JimC, John Feer, Jules, M.D. and others!
Updated 11/18/2016
FORUMS - Speak your mind on a variety of spanking topics, and start your own poll if you wish
PICTURE GALLERY - Looking at a few good pics [spanking photos and art]
Updated 12/30/2016
HUMOR GALLERY - Looking for a few good laughs [spanking photos and art]
Updated 12/23/2016
LINKS to some spanking websites worth knowing about
Updated 04/03/2015
VIDEOS AND GAMES - spanking in motion
Updated 06/28/2018
E-MAIL the Web-Ed
FOR DESERVING WOMEN - Press the red button to get

Spanked

by the Web-Ed!
Personal Messages from the Web-Ed

I haven't made my pitch for CSR Readers to join the CSR Bulletin Board in a while, so let me launch into my usual spiel: there's a lot of good stuff out there, including works by our Resident Artists Dan Rivera, Hugob00m, and Overbarrel. There are some non-spanking pictures as well, from suggestive comic books to Humorama models like Bettie Page. And there's a whole lot of discussion of various spanking topics. You can read the posts without joining, but to contribute to the fun you'll have to sign up. Be sure to send me an email after registering so I can activate your registration. All users who fail to do this get deleted on Thursday (the idea is that these are the spambots, who make hundreds of attempts per week to join). To get to the board, press the orange button above.

Next Week: The Comic Strip Series continues, but with what we're not sure. Do to a mix-up in our files we'll just have to wait and see. It turns out we had a second example of independent spanking art based on For Better or For Worse, and it makes sense to present it except we've already coded something else.

12/07/2018
11/30/2018

The Comic Strip Series continues as we revisit the British comic strip Jane, whose eponymous heroine often had trouble keeping her clothes on. Sweetspot discovered that she also got spanked again for her impertinence.

11/23/2018

The Comic Strip Series continues as we visit Menage a 3. Now, we've never favored threesomes, but in this case two of them are into spanking!

11/16/2018
More About CSR
Surf Free or Die: This is a free site, something of a throwback to the early, pre-commercial days of the web. There's nothing wrong with commerce, of course - it is after all the lifeblood of the nation - but we're sick of pay sites run on the side by large porno outfits that have no genuine interest in spanking. There are some worthy pay sites of course (usually run by genuine spankos), and you can find a few of them on our links page along with free sites and blogs.
What we stand for: Our focus here is on adult spanking, with sane people engaging in safe, consensual play. Because of this, with some very minor exceptions we don't feature any material on this site involving the disciplinary spanking of children, a subject which can and should be discussed elsewhere (we're against it, by the way, like most spankos we know). Our concern is that if we included spankings of both adults and children, some people might think we were trying to eroticize child-spanking because the larger context in which it was presented included elements of adult erotic spanking as well. Therefore, despite our interest in comics, we won't post any of the numerous comic-book spankings involving Nancy, Li'l Dot, Li'l Jinx, etc. We don't consider Superbaby/Superboy spankings (really attempted spankings) to be a problem because, as will be seen in the Comics Gallery, they never come off. By contrast, there is a panel from an old Superboy that shows Professor Lang spanking a young Lana Lang that we won't post, although we do have an aborted spanking of Lana as an older teen. And we have posted an anti-school paddling article by "Martin" that echoes our own thoughts on the subject.
In the galleries, we try to present interesting examples of spankings in popular culture, placing them in a social/historical context where necessary as it often is for items that are decades old. Some of this material has appeared elsewhere, but much has been taken from original sources or was actually commissioned for CSR. With the articles almost all are original and have never appeared anywhere else, offering our readers what we hope is a unique and valuable perpective.
Submissions: We update the site with additional material whenever we can. Most of it we gathered ourselves, but we are always grateful for submissions although we can't pay for them (the only exception being occasional commissioned works of art). If you have written an article, a work of spanking fiction, or have any pictures (which you own or to which you hold the copyright) that you would like to see posted, please send them along to the web-ed.
---
Contributors (heroes all): Alan, Arkham-Insanity, Andre, Bill, Blaze3man, Cc, Charlie, Collegeboy, Congolike, Coyote On Fire, Dan Rivera, David Sherwood, Doctor Cylon, Douglas E. Milburn, Fanz123, Franco, Helena, Hugob00m, Jenna, JesseRay, JimC, Jim Linderman, John Feer, Johnny Ola, JS666, Jules, Leilani, Lucas, Luther, Lyndal Ferguson, Mason, Mattias, Metric Pete, Michael Gray, Michal Valášek, MikeD, Monk, Murray, Overbarrel, Oxken, Pablo, Rob, Robin, Solicitus, SP Anka, Steve W, Sweetspot, Tiptopper, Todd, Valorie, Wolfie138, Yousuf