Welcome to the Chicago Spanking Review!
Updated every Friday
Last Updated 04/21/2017.
[Please note: CSR is not a blog; therefore, to get the latest updates you may have to hit your browser's "refresh" button or purge your internet cache. This is true of all static (no script) web pages, by the way.]
Go directly to latest updates.
Our Motto:
"Wherever there's danger, wherever there's trouble, wherever there's important work to be done - we'll be somewhere else, looking for more spanking material!"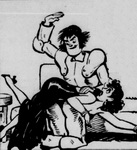 This week's Sneak Peek: Part 2 of the Oaky Doaks spanking storyline!
Chicago Spanking Review is a Chicago-based free on-line journal of information and opinion on the the spanking scene, intended for those interested in the subject of adult spanking. Our goals are:
Present stimulating photos and drawings (including comic-book spankings, a special interest of ours), placing them in social/historical context where possible.
Provide a forum to promote discussion and an exhange of information among spankophiles.
Publicize spanking social events, especially those taking place in the American midwest, to encourage greater participation in them by members of the spanking community.
Explain the importance of using proper techniques for both safety and satisfaction.
For more about who we are and what we stand for, please click here.
CSR was designed to be easy to navigate - from here on the home page you can reach almost any other page on the site with only two mouse clicks - but it is a very large site, and if you're having trouble finding your way around, try the search box above or take a look at the Navigation Page. For spankings taken from comics books and strips, you can also search the Comics Spanking Data Base (see button below).
All pictures and artwork have thumbnail images to help you locate what you want to see. Click on the color-coded radio buttons below to go to the section you want. Scroll down past the radio buttons to find links to our most recent updates.
Our Departments - enjoy!
(Press the color-coded buttons to go to the section you wish)
ARTICLES - Understanding the Whys and Hows of Spanking
Updated 11/07/2014
COMICS GALLERY 1 - Spankings in independent art featuring characters from comic books and strips [spanking art]
Updated 09/09/2016
COMICS GALLERY 2 - Spankings from actual comic books, strips, and animations [spanking art]
Updated 04/21/2017
COMICS SPANKING DATA BASE - Searchable, detailed information on every spanking from comic books and comic strips we can find.
Updated 02/24/2017
DOCTOR CYLON'S WORLD - And a unique world it is, filled with spankings and red bottoms! [spanking art, colorizations and animations]
Updated 03/03/2017
EVENTS in the scene
Updated 01/11/2017
FICTION - Stories by Doc Cylon, Helena, Leilani, JimC, John Feer, Jules, M.D. and others!
Updated 11/18/2016
FORUMS - Speak your mind on a variety of spanking topics, and start your own poll if you wish
PICTURE GALLERY - Looking at a few good pics [spanking photos and art]
Updated 12/30/2016
HUMOR GALLERY - Looking for a few good laughs [spanking photos and art]
Updated 12/23/2016
LINKS to some spanking websites worth knowing about
Updated 04/03/2015
VIDEOS AND GAMES - spanking in motion
Updated 12/12/2014
E-MAIL the Web-Ed
FOR DESERVING WOMEN - Press the red button to get

Spanked

by the Web-Ed!
Personal Messages from the Web-Ed

For Sarah - this is a repeat message to get your attention: Just so you know, I received your email and have sent a response. I think your spam filter stopped it my mistake. And I know that you've been putting this off for too long, so be sure to reply so that we can set up the 1-1 session you need and deserve!
Next Week: The cataclysmic conclusion of CSR's month-long 13th-Anniversary celebration as The Comic Strip Series continues with the last of four installments featuring the Oaky Doaks spanking storyline and we conclude another series with "A Tribute to Birthday Spankings - Part 3".

04/21/2017

CSR Anniversary Special: we present Part 2 of our three-part examination of Birthday Spankings - this week a Nik Zula cartoon, another photo from Richard Windsor, an old-time birthday paddling we can't identify, and a modern video of three birthday bar paddlings!
The Comic Strip Series continues as we present part three of a four-part presentation, the Oaky Doaks spanking storyline!

04/14/2017
04/07/2017

In honor of The Comic Strip Series on the main site, we present another example of what we call the "behind in jeopardy" over on the Bulletin Board. And it's a queen's behind at that in this Oaky Doaks strip.
The Comic Strip Series continues as we begin our four-part presentation of the Oaky Doaks spanking storyline!

03/31/2017
More About CSR
Surf Free or Die: This is a free site, something of a throwback to the early, pre-commercial days of the web. There's nothing wrong with commerce, of course - it is after all the lifeblood of the nation - but we're sick of pay sites run on the side by large porno outfits that have no genuine interest in spanking. There are some worthy pay sites of course (usually run by genuine spankos), and you can find a few of them on our links page along with free sites and blogs.
What we stand for: Our focus here is on adult spanking, with sane people engaging in safe, consensual play. Because of this, with some very minor exceptions we don't feature any material on this site involving the disciplinary spanking of children, a subject which can and should be discussed elsewhere (we're against it, by the way, like most spankos we know). Our concern is that if we included spankings of both adults and children, some people might think we were trying to eroticize child-spanking because the larger context in which it was presented included elements of adult erotic spanking as well. Therefore, despite our interest in comics, we won't post any of the numerous comic-book spankings involving Nancy, Li'l Dot, Li'l Jinx, etc. We don't consider Superbaby/Superboy spankings (really attempted spankings) to be a problem because, as will be seen in the Comics Gallery, they never come off. By contrast, there is a panel from an old Superboy that shows Professor Lang spanking a young Lana Lang that we won't post, although we do have an aborted spanking of Lana as an older teen. And we have posted an anti-school paddling article by "Martin" that echoes our own thoughts on the subject.
In the galleries, we try to present interesting examples of spankings in popular culture, placing them in a social/historical context where necessary as it often is for items that are decades old. Some of this material has appeared elsewhere, but much has been taken from original sources or was actually commissioned for CSR. With the articles almost all are original and have never appeared anywhere else, offering our readers what we hope is a unique and valuable perpective.
Submissions: We update the site with additional material whenever we can. Most of it we gathered ourselves, but we are always grateful for submissions although we can't pay for them (the only exception being occasional commissioned works of art). If you have written an article, a work of spanking fiction, or have any pictures (which you own or to which you hold the copyright) that you would like to see posted, please send them along to the web-ed.
---
Contributors (heroes all): Alan, Arkham-Insanity, Andre, Bill, Blaze3man, Cc, Charlie, Collegeboy, Congolike, Coyote On Fire, Dan Rivera, David Sherwood, Doctor Cylon, Douglas E. Milburn, Fanz123, Franco, Helena, Hugob00m, Jenna, JesseRay, JimC, Jim Linderman, John Feer, Johnny Ola, JS666, Jules, Leilani, Lucas, Luther, Lyndal Ferguson, Mason, Mattias, Metric Pete, Michael Gray, Michal Valášek, MikeD, Monk, Murray, Overbarrel, Oxken, Pablo, Rob, Robin, Solicitus, SP Anka, Steve W, Sweetspot, Tiptopper, Todd, Valorie, Wolfie138, Yousuf