Get the

Spanking

You Need and Deserve
Do you think you could benefit from some discipline in your life? Are you having trouble meeting important goals because no one is there to give you some words of encouragement when you do well, and some well-placed swats when you're not trying hard enough? Or perhaps you feel youíve done something wrong, and will never know the peace of a clear conscience until you have received corporal punishment? Or maybe youíre the classic brat who secretly wishes that just once you could find a man strong enough to stand up to you and spank you thoroughly for your outrageous conduct? If you live in or are travelling to the Chicago area, why not get the discipline you need from the CSR Web-Ed himself? I am a flexible, knowledgeable and experienced disciplinarian -- compassionate yet authoritative, easy to talk to but as strict as you need me to be. If you are looking to be held accountable for your actions, look no further.
Answers to some common questions and concerns:
Iím not sure Iím ready for this yet.† The cause of this feeling is fear and insecurity.† Actually, you are ready, and as ready as anyone can ever be Ė itís just that youíre also scared, which is perfectly natural.† Iím going to try to address your concerns in this section.†
<![if !vml]>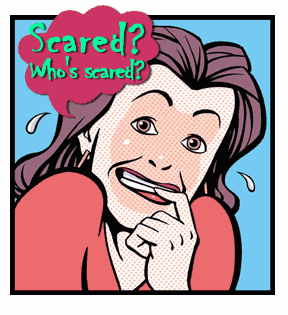 <![endif]>†
I don't want any sexual involvement, just a good spanking. No problem - this is about spanking, not sex, and I absolutely will not touch you inappropriately or do anything to make you feel uncomfortable during the session. The majority of the women I have sessioned with over the past decade have either been married to or involved with someone who didn't spank them, so I'm used to dealing with this situation. We'll have a nice conversation (ending with a stern lecture if appropriate) followed by a good spanking, and that's all.
I'm afraid of being hurt. I don't know whether this or the sheer embarrassment at the thought of actually being taken over a man's knee is the bigger hurdle for a woman trying to work up the nerve to receive her first spanking. I certainly respect limits, but what is more important is that I have no real desire to push past them in the first place. If I think you've had enough, I'll stop, even if I can see that you would rather go on. My spankings do hurt, but not too much, and they never cause any real damage. Iíll do my best to keep the level of intensity within your comfort zone, and while itís possible you might get a little more than you expected, it wonít be a lot more.† You will most likely feel some effect for a couple of hours afterwards, but you will definitely be able to sit down with reasonable comfort. Also, I will give you a safe word you can use at any time, but I must say that nobody, in all these years, has ever needed to use one with me.
I'd just die of embarrassment if anyone ever found out I went to you to get spanked. Will you protect my privacy? Yes, absolutely. I fully understand the need for strict confidentiality. Come get the spanking, paddling, or caning of your dreams and no one will ever hear about it from me - that's a promise.
I don't want to be naked! No problem - this is a real-life spanking, not one of those videos you may have seen featuring gratuitous full nudity. You may remain covered for the most part.† Will I bare your bottom?† Come see me and youíll find out!
What will take place during the session?† If youíre comfortable discussing your specific needs, I will attempt to tailor the session to them.† If itís too difficult to talk about what you want, or if you truly just donít know, expect to go OTK (hand and small paddle) and to receive a disciplinary-style paddling (not too hard, but youíll feel it).
Where do your sessions take place?† Generally in my home, which is nestled in a quiet, discreet, suburban neighborhood.† We can meet somewhere else first if you wish Ė for that matter, we can meet at a Crimson Moon party, but for most novices the thought of attending a spanking party is more nerve-wracking than seeing a disciplinarian privately.†
I want to receive real discipline, and Iím afraid I will enjoy the spanking too much for it to work.† First of all, thereís nothing wrong with enjoying a spanking, and it is possible for the session to be both enjoyable and disciplinary.† Youíre supposed to feel good afterward!† If you need discipline, I will make sure the spanking goes on long enough so that it definitely qualifies as a real punishment.† I want you to be happy Ė and to feel the stinging heat for a while afterward!
I've often heard it said that you're as handsome as a movie star - is that true? Not quite, but I'm not at all bad-looking either. I'm in my mid 40's, with thinning hair, but generally well-preserved and still athletic (I exercise 5 or 6 days a week). I'll send you a photo when you write to me. And anyway, just try to find a movie star who can spank you with the skill I can - I'll bet only "Spankin' Jack" Nicholson even comes close.
Why should I get spanked by you, Dr. Nutnik?† I am not crazy Ė I am a very normal, stable, and well-educated man with a good sense of humor who happens to really like spanking.† I do have other interests, like music and literature, which you should already know if youíve been paying attention to the rest of this site.† You could do a lot worse for your first spanking (or your hundredth, for that matter).† And by the way, youíre getting an extra 10 swats for the insolent tone of your question Ė bend over!
Is there any charge for a spanking session?† No Ė it really never occurred to me to do this for money.† Before being asked this question repeatedly, I wouldnít have suspected that so many women were willing to pay for this service.† But Iím satisfied with offering spanking services for free.† This way, I can accept only those clients I wish to see, women I will enjoy meeting (and spanking).†
<![if !supportEmptyParas]> <![endif]>
Some possible scenarios that may interest you:
-- "So, I see you haven't a) started that exercise plan yet; b) stuck to your diet; c) cleaned up the house; d) studied for your exams (etc.). Quite a problem with procrastination, haven't you? What you need is a little extra motivation, and I know just the thing - a good spanking! Come here and turn over my knee..."
-- "You were driving a) recklessly; b) wearing no seat belt; c) in a dangerous neighborhood at night. Taking chances with your safety is a very serious matter. How many times have I warned you about doing things like this? I can see you need something to help remind you to take better care of yourself. Come over here, young lady. Bend over and place your hands on the chair." (Taking hold of a paddle or cane) "This will hurt, but it's for your own good.† Look straight ahead... "
-- The discipline plan: this takes some time to work out, but is something you might want to try after you've had a session or two. Basically, you set some reasonable goals for yourself with my assistance, and with suitable consequences spelled out if you fail to meet them. For example, failure to follow that diet or exercise plan could result in a set number of swats being administered. Part of the plan could include periodic maintenance spankings, as helpful reminders.
-- Roleplay: I don't get very many requests for this, but I'm willing to try it. I prefer any roleplay to be as close to reality as possible.
-- The "just for fun" spanking or paddling: what it says. This can be anything from a light session OTK to a somewhat more intense paddling while you ďassume the positionĒ.
These are just a few of the more common scenarios - the possibilities for exploration are endless.
More Reasons To Get Spanked by Me
<![if !supportLists]>∑ <![endif]>Deep down, you know you need this.†
<![if !supportLists]>∑ <![endif]>Youíre curious too:† whatís it like to get a real spanking instead of just reading about one?† Whatís it like to have to bend over for swats with the paddle?† How does it feel when your bottom is turned up, waiting for the spanks to start raining down?† Does it really sting when they do?† Thereís only one way to find out!
<![if !supportLists]>∑ <![endif]>Be honest: you deserve to be spanked. Once you have admitted this to yourself, you have no excuse not to accept your just desserts.† And when you have, youíll be rid of those horrible feelings of guilt.
<![if !supportLists]>∑ <![endif]>Speaking of guilt, you might feel guilty just for wanting a spanking in the first place!† I can help you come to terms with your needs, to help you understand why you want to be spanked and why thereís nothing seriously wrong with you, but in order for me to do this you have to experience a real spanking.† Honestly, youíll have to get spanked more than once for it all to make sense, but as the old saying has it, ďno pain, no gainĒ.
<![if !supportLists]>∑ <![endif]>Other women get the spankings they want, and theyíre no different than you.† Theyíre not smarter, or richer, or prettier, or better, so why should they have all the luck while you suffer spanklessly?
<![if !supportLists]>∑ <![endif]>Did I mention that you get a great big hug at the end of your session?† Well, you do!††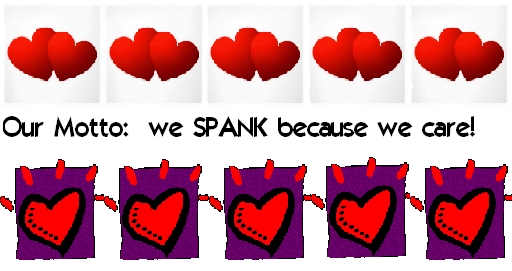 A Final Note:
Many times I have had someone contact me, obviously with a real need to be spanked, only to back out of her session as the appointed time grew near. I think it's worth examining why this occurs in more detail, because it is interesting psychologically and because I would like to help you avoid this unhappy outcome.
There is always a conflict between the need to be spanked and the fear of actually getting that first spanking. As the frustrated need grows stronger than the fear, eventually the woman reaches out, taking the first step toward satisfying the need. But as the thought of actually getting spanked becomes less fantastic and more real, the fear increases until it becomes as strong or stronger than the need, and she finds herself paralyzed, unable to go through with it. Itís sort of like the Sword of Damocles hanging over your head, although in this case itís really more like the Hairbrush of Damocles threatening to come down on your butt!
Now there is something to be said for fear - at the right time it can even save your life. But a fear that prevents you from taking reasonable and necessary steps toward a happier, more fulfilled life, is the most destructive force imaginable. There is nothing sadder than opportunities lost, not through cruel fate, but through our own faults and failings. It is our responsibility to take positive action to improve our lives - just waiting around for "something to happen" isn't good enough. Itís not always easy.† It does take courage to seek a better job, a better life Ė or a spanking.† But the rewards are out there, and they are rich for those who find the courage to go out and look for them.
The fact is, you need to get spanked - if you didn't you wouldn't have clicked on the red button in the first place.† For your sake, donít let opportunity pass you by Ė you have a great deal to gain by going through with this, and very little to lose.
<![if !supportEmptyParas]> <![endif]>
<![if !vml]>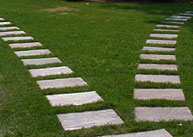 <![endif]>††††††††††† Which way will you go?††
Back to HOME page

E-MAIL me to find out more session information.† Please put the word "spanking" in the subject line so I know it isn't spam.

†

<![if !supportEmptyParas]> <![endif]>
<![if !supportEmptyParas]> <![endif]>