<!- IMAGE ->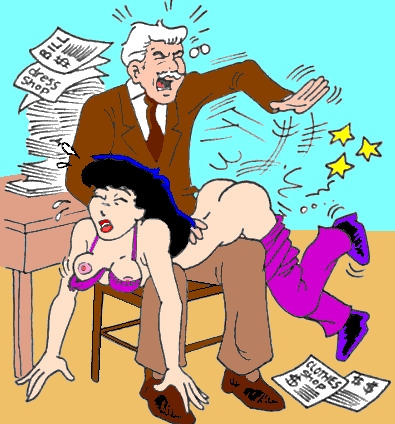 © AP. Posted by the Web-Ed on 10/08/2009.
Similar in theme to the preceding entry, this fourth entry in our "Riverdale Spankings" series again features Veronica Lodge getting spanked by her father, who is understandably fed up with her overspending. This one obviously did not come from the comics, being somewhat too sexy for that venue, but we don't know whom to credit for it.

11/20/2009 Update: We recently learned that this cartoon was the brainchild of someone we'll call "Bawdy Bard," while the artwork was done by his friend and co-conspirator Kevin Karstens. We'll have more to say about these two gentlemen in the future when we post some of their other work in this gallery and in the Humor section.

We should mention that we had not realized Doc Ken at Spanking Minnesota had posted this when we saw the two other "Archie" spankings there that actually came from the comics. We had thought that this drawing, as well as the two others remaining in our collection, had only appeared once before on the net. If we had known that Ken had found them, we might not have re-posted them here and instead simply provided links, but at this point we're going to continue the series to its conclusion.