<!- IMAGE ->
© TimeWarner
[redacted] turns in another superb example of superhero spanking - notice the small touches such as the "Discipline for Girls" book that Batwoman appears to have been reading very closely - and that great Bat-Paddle is an accessory that should be included in every super-spanko-hero's utility belt!
Most of our readers are probably unfamiliar with the original Batwoman (Kathy Kane) or the first Batgirl (her niece Betty Kane), since they are among the less well-known of Batman's supporting players. Batgirl #1 (the blonde one seen here over Batwoman's knee) was in only about a half-dozen stories during the early 60's. Batgirl #2 (Barbara Gordon, seen here in the corner with red hair and an equally red bottom) debuted in 1967 when Robin was still in high school and the Batman TV series was on the air. This Batgirl was in many more stories than her predecessor and is still being featured today (2007) on the new Batman cartoon series.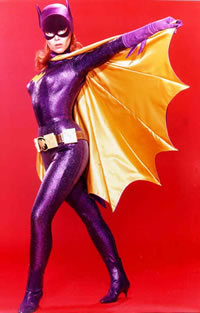 In fact, the character was also a late addition to the original live-action series during its 3rd season (1967), played there by Yvonne Craig. Miss Craig had been a dancer and was athletic enough to do her own stunts on the show. Although the Batgirl role was rather weakly-written in our view, Miss Craig played it well, and with a haughty, I-deserve-to-be-spanked attitude that made us want to do just that!