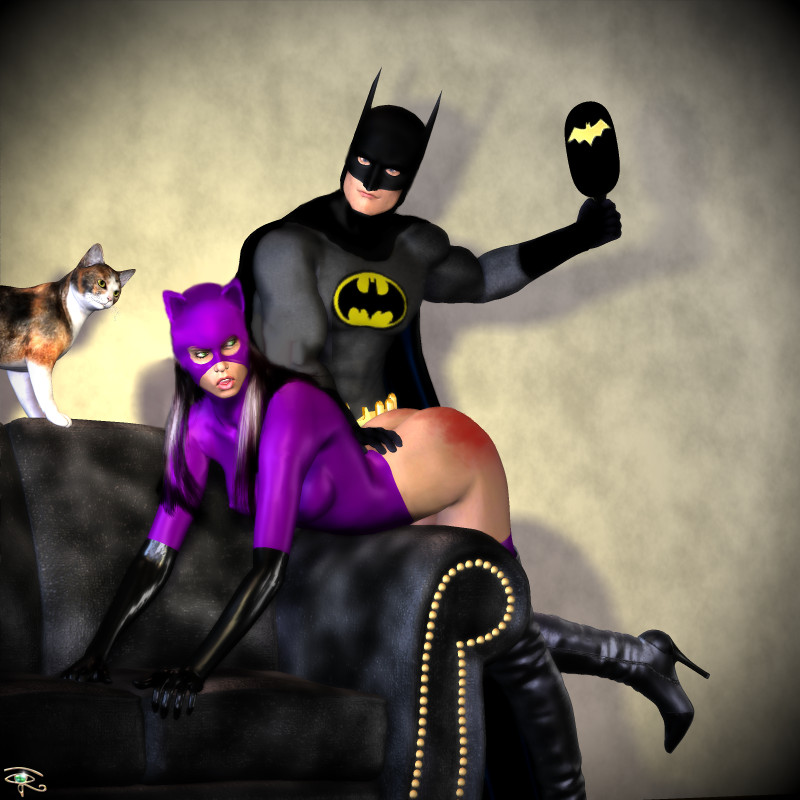 Art by Invidia. Posted by the Web-Ed on 09/03/2010.
Invidia and her blog The Collar Purple were mentioned last time, in Batman spanks Harley Quinn. For the second example of Invidia's art, we have Batman once again punishing a female offender, this time his old foe The Catwoman. We like this one a little better, because it features our favorite position (bending over) and favorite implement, the paddle. In fact, once again, we see that another artist has independently conceived of a Bat-Paddle - it just seems a natural spanking accessory for Batman. The cat is a nice touch, too.
We've always avoided making a public assessment of Invidia's art, because we think some of the criticism it received years ago hurt her feelings. But we can't avoid the question here, so we might as well admit there's something about poser art generally (not just Invidia's) that leaves us a little cold. Some artists do much better with it than others, though, and Invidia certainly did as well as anyone with the technology available at the time, yet we still don't have quite the same admiration for it we do for traditional drawings or even other digitally-assisted art, nor do we find it as erotic. There is a human quality that is somehow missing, even though you can see a human intellect behind the finished product. A computer plotting and replotting a curve is simply not the same thing as a human being trying to re-create and interpret what his consciousness has perceived.