<!- IMAGE ->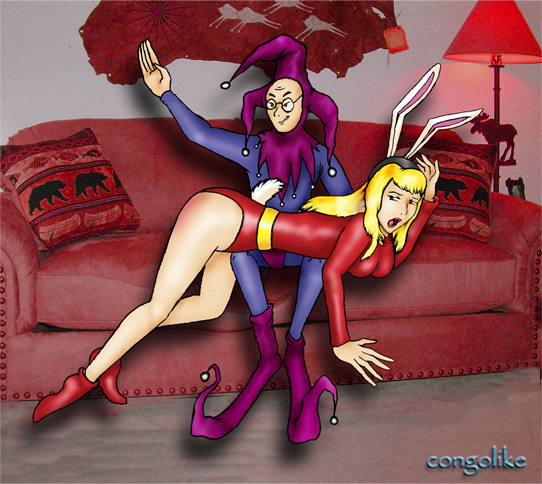 Posted July 2008. Merryman and Dumb Bunny © DC Comics Inc. Original art is © Congolike
We waited a long time to find an artist willing to undertake a commission for us. And then Metric Pete finished the Batgirl/Supergirl drawing (not technically a commission since he generously did it gratis), while almost simultaneously Congolike accepted our proposal to try his hand at one featuring Merryman and Dumb Bunny from the Inferior Five. The I-5 were an attempt to combine superheroes with humor, and replaced Marvel's "superheroes with personal problems" approach with one that could perhaps be described as "superheroes with personal liabilities". Thus we had Merryman (the proverbial 98-pound weakling - before he lost weight), choosing a jester's outfit for his costume because, as he put it, "If I'm going to make a fool of myself, I might as well look the part"; and Dumb Bunny, who was "stronger than an ox, and nearly as intelligent".
We'd like to think that Merryman is spanking Bunny for calling herself "Dumb" (a perfect example of loving discipline - given out of genuine care and concern), but from the expression on his face, he might be doing it for fun as well - and we can't really blame him!
<!- IMAGE ->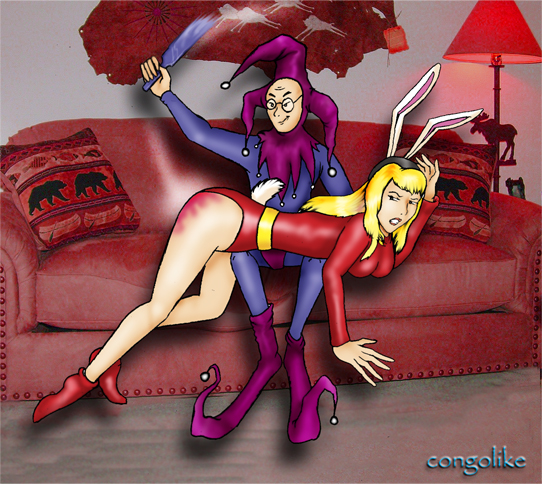 Merryman and Dumb Bunny © DC Comics Inc. Original art is © Congolike
Here is a variation on the drawing above in which Bunny's expression is altered as Merryman employs a paddle. We have enjoyed Congolike's work since we discovered it a couple of years ago. We think that he has done a good job of capturing the essence of these characters while presenting them in a way different from their old comic-book appearances (despite the near-epidemic of spanking in DC comics, Bunny never got spanked - until now). We're especially impressed by the vivid coloring - even the backround (we have no idea where it came from) has been carefully chosen so that its colors complement those of MM's and DB's costumes. Incidentally, if you've ever thought of having your own original spanking-themed artwork, Congolike does accept commissions. You may well find him amenable to creating a M/F or F/F work. He can be contacted through ANIMEOTK.
The combination of humor with superheroes has never been too commercially successful, despite what seems to us to be the ripeness of the superhero genre for a good ribbing, and the I-5 were no exception, appearing three times in DC's Showcase and then in just ten issues of their own mag during the 60's.
By an interesting coincidence, at the same time we were planning to feature Merryman and Bunny, an I-5 retrospective appeared on Dial B for Blog . Check it out if you'd like to learn more about the Inferior Five.