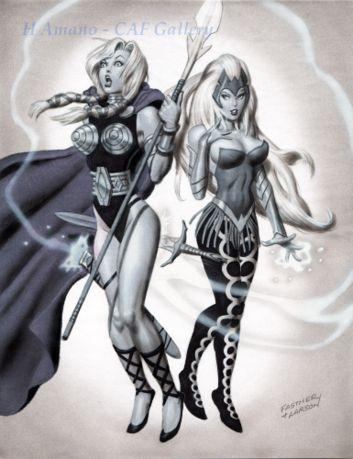 Characters © Marvel Comics Group Inc. Posted by the Web-Ed on 04/15/2011.
Time now for another run of superhero spankings, beginning with this unusual piece from the team of Fastner & Larson. The Enchantress, old foe of Thor and The Avengers, gives the Valkyrie a swat across the seat with her own sword! There's an unusual relationship between these characters: The Enchantress actually placed the Valkyrie's spirit in a mortal body. This is the only spanking we've seen involving either one of them, and it was certainly overdue!
We probably found this at Comic Art Fans. Fastner & Larson painted it, perhaps as a commission. They have done other spanking works, sometimes using odd-looking paddles and generally avoiding the OTK position. It's cute, with revealing expressions on the faces of both women, Valkyrie startled and the Enchantress - well, you can decide for yourself what her expression reveals about her motivation for giving the swat.