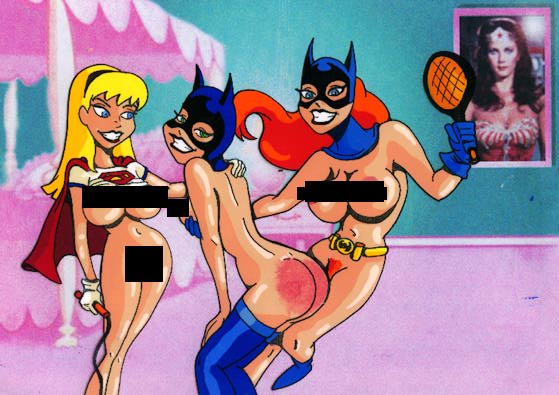 Superhero Team-Ups have always been popular - strangely so in our view, since if the individual characters are truly distinctive they usually do not complement each other very well. Given this popularity, it was probably inevitable that DC's two most archetypal heroes, Superman and Batman, would get together, which they did early in 1941 (World's Finest Comics #1). Supergirl and Batgirl, on the other hand, as female knock-offs of their male counterparts, were a lesser team but did show up together on occasion. However, those team-ups were nothing like this one!

Here we see Supergirl and Batgirl, perhaps fed up with our slap-on-the-wrist criminal justice system, have decided that the slaps should be applied to some place other than the wrist of that feline felon, The Catwoman. (How do we know it's Catwoman, with so much of her costume missing? Look closely and you'll see that her eyes are green, just as they were always colored in the comics - really). The naughty bits in this very cute drawing by Sherlock Sam were censored by someone other than the Web-Ed.

And finally, who do you suppose was the inspiration for all this girl-on-girl fun and frolic? Yep, it was none other than the original superhero kinkster herself, Wonder Woman - the girls even have her picture on the wall!