<!- IMAGE ->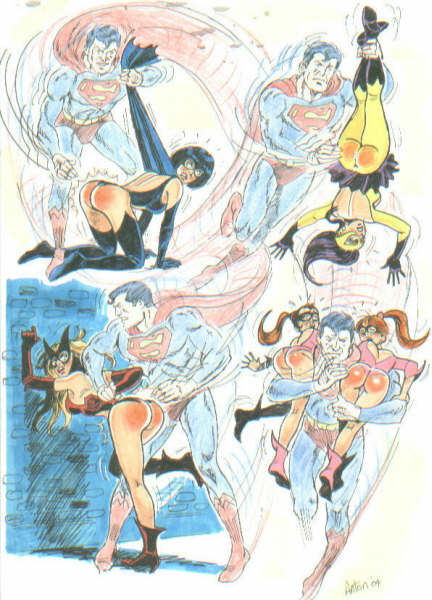 The 3rd entry in our our latest series of superheroes is the most unusual spanking drawing featuring Superman that we have ever seen. Looks like it was a busy night in Metropolis for the Man of Tomorrow - he is obliged to capture (and spank) no fewer than five villainesses, including a pair of twins! Superman's figure is drawn as an almost wraith-like blur, probably to help indicate speed, and he employs a number of very odd spanking positions: crawling on all fours, up against a wall, over both shoulders (the twins), and upside-down (as if he were delivering a baby)! Noticeably absent is the OTK position - maybe Supes just didn't have time for it!

We think we recognize the style of the artwork as belonging to a fairly well-known comics professional, but if he chooses to use "Anton" as a pseudonym, we will respect his choice and not reveal his true name. He wouldn't be the first comics artist to have done this, and in fact we've got some other cartoons in this gallery that (we think) fall into this category. It's perfectly understandable that some artists wouldn't want everyone to know they draw these things, any more than we would want everyone to know we enjoy looking at them. Some may want to disguise their interest in the spanking scene, or, for that matter, might draw a spanking for purely professional reasons and not want the public to wrongly conclude they were really into the scene. Whatever their reasons, we're grateful to anyone with real drawing talent who is willing to apply it to the production of the spanking artwork we love! "Anton" has, by the way, also done some B&W caning drawings.
<!- IMAGE ->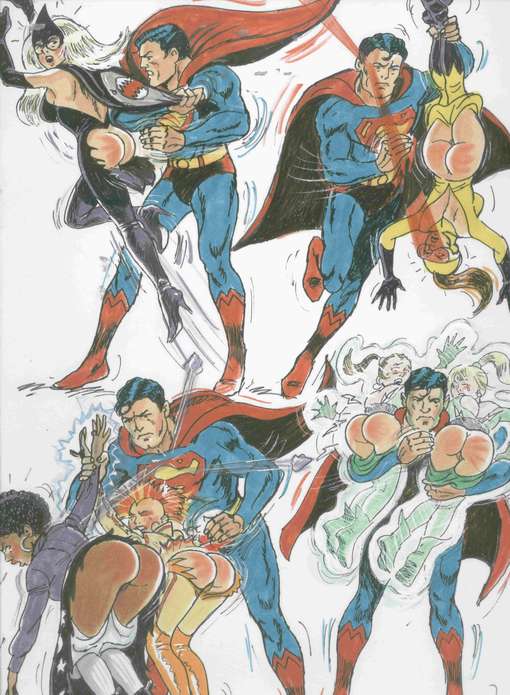 We recently heard from someone we'll call "Bill" who had an interesting story to tell. He was able to provide us with a later, redrawn version of the artwork above, which we have added here. A comparison between the two is interesting. The two scenes on the left have been completely redone and in the lower one two new spankees replace the old one. The upper right scene still uses the upside-down position with the same spankee, but now her head is twisted around to an impossible degree, which allows her to aim a beam of heat-vision at Superman (to no avail, of course - the only thing feeling any heat is her bottom!). Finally, the twins in the lower right-hand scene have been completely redrawn. We think we prefer this 2nd version. Thanks to Bill for providing us with this item.