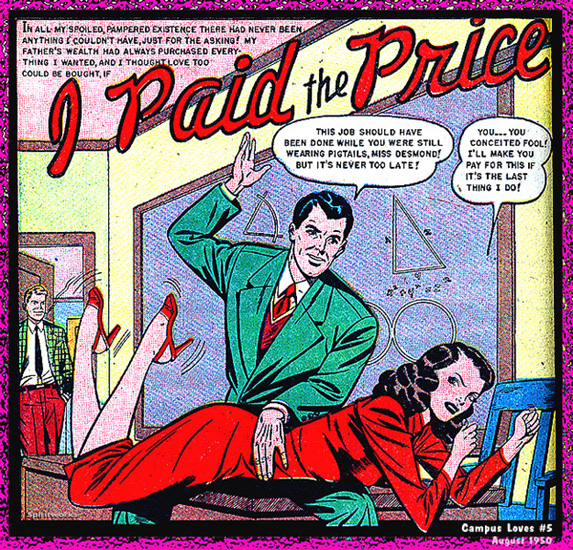 From Campus Loves #5 (August 1950). © Quality Comics Group. Enhanced by Spiritworks Studio. Posted by the Web-Ed on 06/11/2010.
Let's continue our survey of "The Seven Spankings" (comic-book spankings which were known to a small group of us back in the 70's) with the second of them, Campus Loves #5 (August 1950). The artwork is conventional but well-done, and there are a couple of good things about this story, entitled "I Paid The Price" (which may or may not be intended to refer to the spanking).
First, the spanker (Burt Taylor), who appears to be a math professor, tells the spoiled spankee (Connie Desmond), "This job should have been done while you were still wearing pigtails, Miss Desmond! But it's never too late!" Just so - spoiled brats of all ages deserve a good spanking! Second, the spanking is depicted both on the splash page and later during the course of the story. "She Paid The Price" all right - twice!