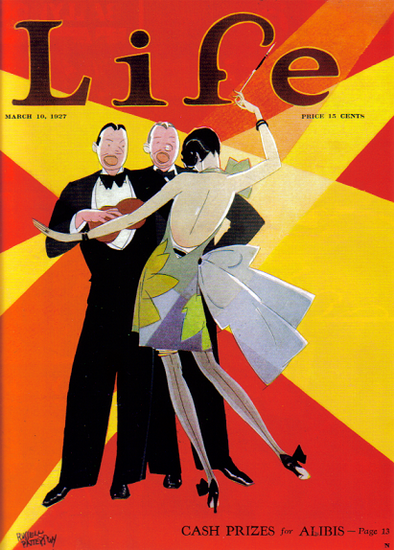 The cover of Life magazine from March 10, 1927. Art by Russell Patterson. Since we seem to be on a fashion kick, note that the flapper is wearing a very short skirt - one of her identifying features.
What earlier artists influenced Flowers' style is difficult to determine without help. He mentions Russell Patterson, Gilbert Wilson, and Garret Price. We have a sample of Patterson's work at left: there is certainly an angularity and elegance on display, together with minimal lines although the flapper is downright skinny. Perhaps Flowers took the minimalism and angularity and added to it what is often referred to as his "fluid line". We've never heard a definition of what that means, though.
To us, Flowers' characters look as if they were drawn with very long strokes - that is, as if the artist knew where the line was going and didn't have to stop and pause along the way to see how it looked. We're not saying that Flowers actually did draw that way, only that that's how it looks. A reasonable definition of Flowers' fluidity? CSR readers can decide.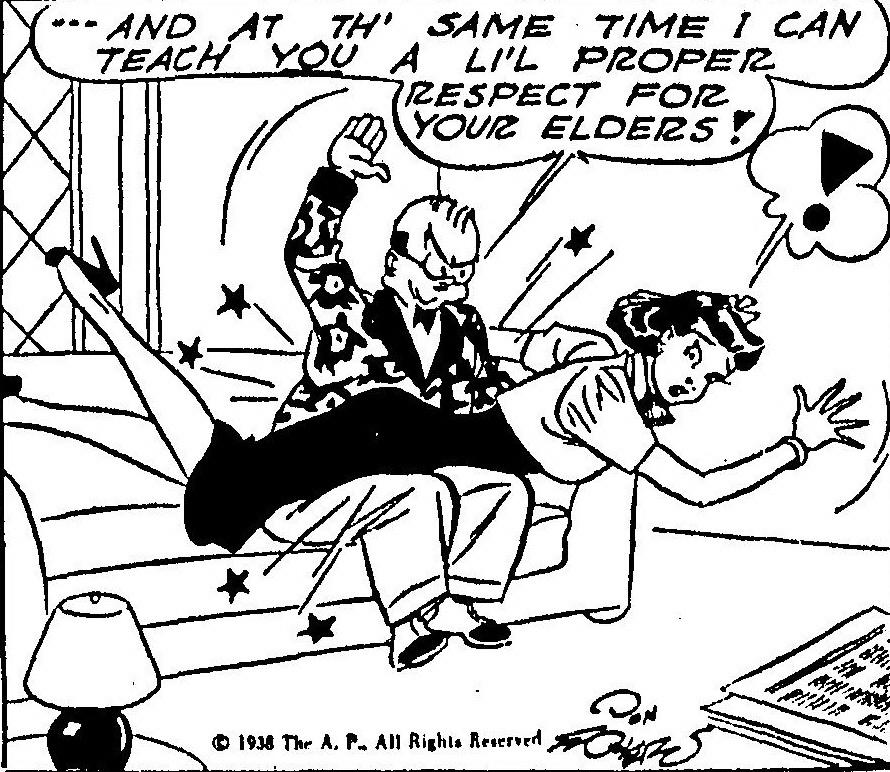 The spanking panel. (click to increase in size).
The spanking panel may not be the best example of what we're trying to get at. Part of the problem is Diana's black dress, which obscures a great deal. The minimalism is obvious - see how both Diana and her father's expressions are conveyed with very few lines? But the "flowing line" is perhaps more apparent in Diana's brother, or in her first spanking from 1936 where Diana is wearing a dress that isn't all black.
The OTK position is about the same as in Spanking #1, and Papa looks like he's laying it on pretty good! This is another very significant find that no one had ever suspected existed, so once again it's hats off to Sweetspot for discovering it.