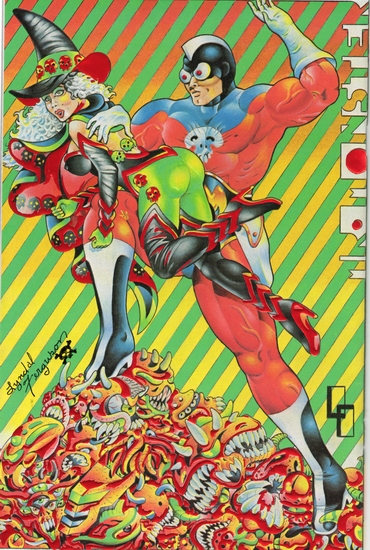 © 1993 by Michael T. Gilbert. Art by Lyndal Ferguson. Posted by the Web-Ed on 04/30/2010.
Mr. Monster was created by Michael T. Gilbert in 1984 for Pacific Comics, inspired by a forgotten character from the 1940's named Doc Stearne. Old Doc had actually called himself "Mr. Monster" for a brief time (one issue - that's brief!), but Gilbert developed the concept into a kind of hereditary post passed from father to son, charged with the responsibility for battling vampires, werewolves, and other assorted anti-social elements. The new Mr. Monster had a varied publication history, and in fact had appeared once before in 3-D format (in Mr. Monster #10) when Gilbert decided to produce another 3-D issue himself in concert with 3-D expert Ray Zone. The result was Mr. Monster's Triple Threat 3-D (1993).
Lyndal Ferguson's contribution to the issue was this striking back cover, which he autographed for us. This has to be the most colorful comic-book spanking of all time! It's hard to tell from the scan, but the cover was actually embossed into a 3-D texture. On it, Mr. Monster has apparently discovered a new way to deal with witches - forget the ducking stool (a pain to construct) or burning them at the stake (there are laws agains air pollution) - just spank them!
Lyndal Ferguson, creator of Dr. Bang, has had a long career as an artist, drawing for comics, magazines, records, and T-shirts. Nor is he a newcomer to spanking: he did a spanking piece for the band HAUNTED GARAGE, and used to draw for the spanking magazines of CF Publications when they were still in print. He has done a lovely drawing of a post-spanking Catwoman (modeled on Julie Newmar) which we will also post in this gallery. Finally, he is credited with the plots of a few spanking videos for Lily Starr, Kat, and his friend Kisa Elaine.