We come now to the last of the four spankings of Olive Oyl in our Popeye mini-series. It's from October 1937, and so comes near the end of E.C. Segar's run on the strip he created. This is quite possibly the last spanking scene he did in the strip.
The set-up is fairly simple: Popeye has contracted "Melankonkus" (apparently a play on "Melancholia") after Swee'pea's real mother has taken him away, and now believes that Olive Oyl is Swee'pea.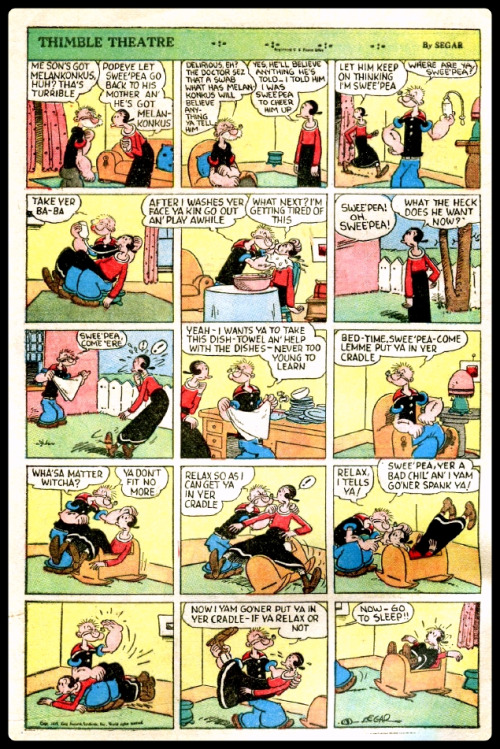 Popeye spanks Olive Oyl while under the delusion that she's really Swee'pea. From a Sunday edition of Thimble Theatre, original publication date 10-10-1937. Reprinted in King Comics #28 (July 1938). Published by David McCay Co. Discovered by Web-Ed. © King Features Syndicate

The spanking panel. Posted by the Web-Ed on 11/24/2017. © King Features Syndicate
Perhaps the highlight of the spanking panel is Olive's expresson: what can she do? Popeye has "melankonkus" after all, so she has no choice but to humor him and accept her spanking! Once again, Segar does the OTK positioning very well. It's not particularly sexy, but it is funny.
We found this episode in King Comics #28 (July 1938) during our Golden Age comics spanking search. King Comics reprinted mostly the Sunday comics of King Features Syndicate. (All the very early comic books got started by reprinting newspaper strips).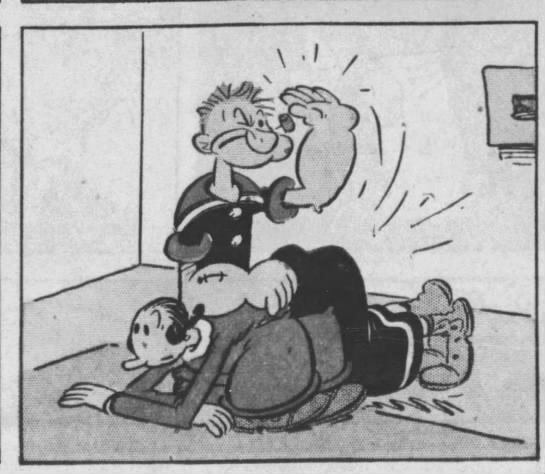 The spanking panel from the original newspaper strip of October 10, 1937. Scan by Sweetspot. © King Features Syndicate
Sweetspot later managed to locate the original newspaper strip and nail down the date as October 10, 1937. This is quite a good scan with greater clarity than the reprinted version.