<!- IMAGE ->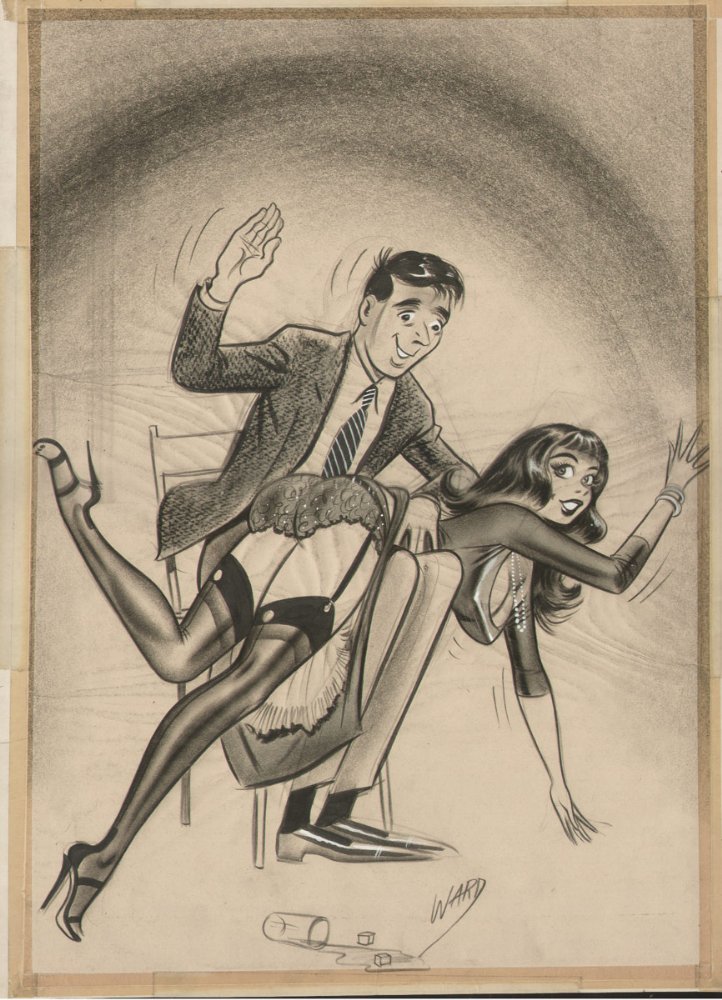 This spanking cartoon is by Bill Ward (1919 - 1998), who like his rough contemporaries Dan DeCarlo and Kirk Stiles, drew many during a long career. In fact, he probably drew more adult-themed cartoons than any other single person, contributing not only to the men's humor mags in which many of the cartoons we have selected for this gallery originally appeared, but also to any number of cheap "adult" newsprint publications we well remember perusing twenty-five years ago in our early search for spanking material. Ward had started out during the 1940's, working on many comic-book features for publishers like Fawcett and Quality. It was later, during his service in the U.S. Army when he created Torchy Todd (the Blonde Bombshell) that he began to gain a reputation as a glamor-girl cartoonist. Eventually, probably during the early 50's [we now know it was 1956 - Web-Ed], he stopped working in the comic-book industry and did magazine work almost exclusively thereafter. There remains a large interest in his cartoons to this day (see his official site ).
Although Ward drew a huge number of "spankers" (as cartoon spankings were sometimes called by the editors) over the years, and although he was regarded by many as the king of the glamor-girl cartoonists, we much prefer the spanking art of Stiles and DeCarlo, which is why you will find more of their work than his in this gallery. At some point, Ward became completely boob-crazy, drawing women of such ridiculous proportions that Jim Engle and Chuck Fiala, writing in the humorous "Fandom Confidential" feature of The Comic Reader, remarked that his model must have been a party doll with two war surplus graf zeppelins strapped to its chest.
Fortunately, this cartoon is from his earlier work and shows him at his best. It probably first appeared during the 50's. There is a warmth, charm, and humor on display here that we feel was lacking in his later work. You will notice that this appears to be a scan of Ward's original drawing, not a printed page, which is why there is no caption.
posted 11/23/2008