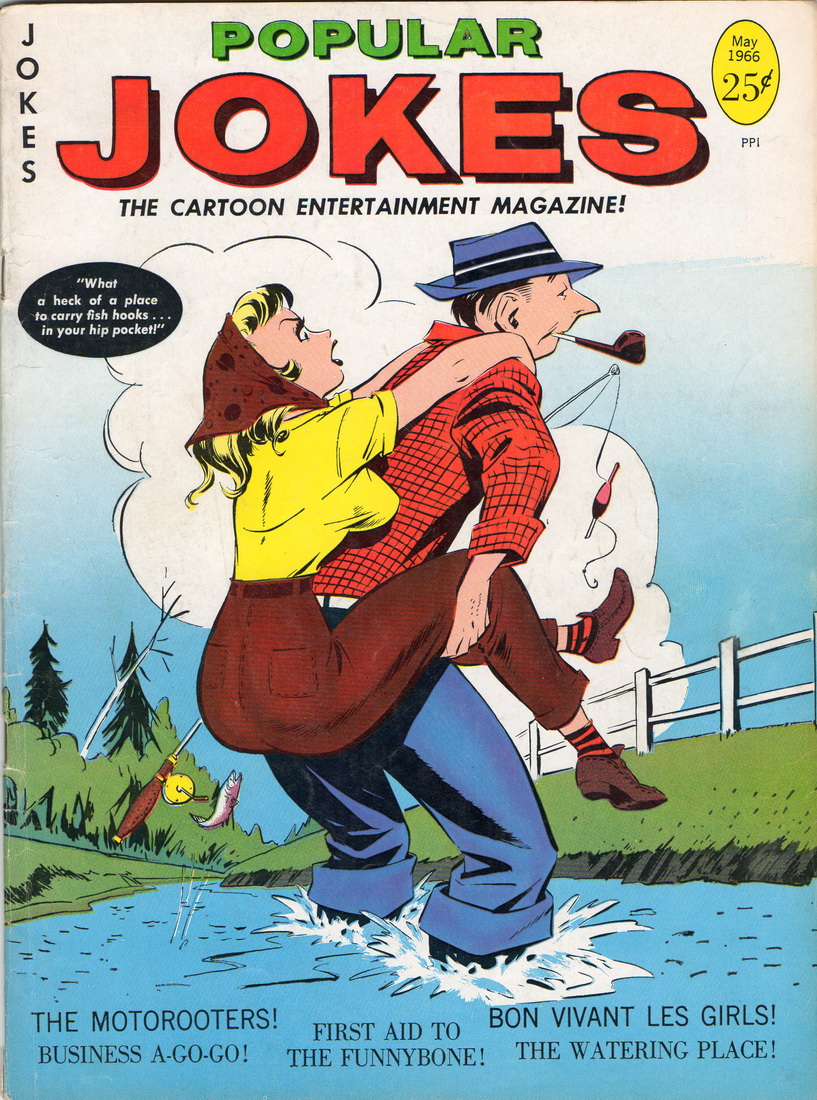 Popular Jokes (May 1966). (click to double-size).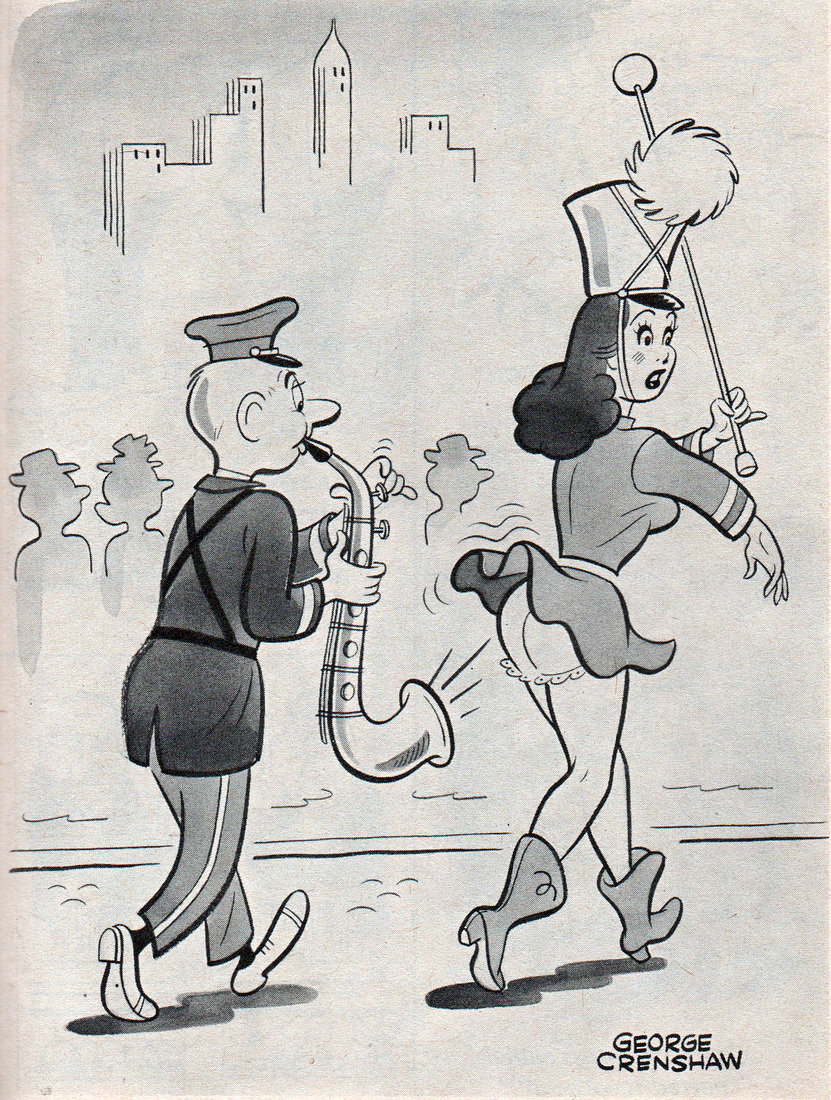 More of Crenshaw's work, from Romp (January 1962). Scanned and posted by the Web-Ed on 01/18/2013 (click to double-size).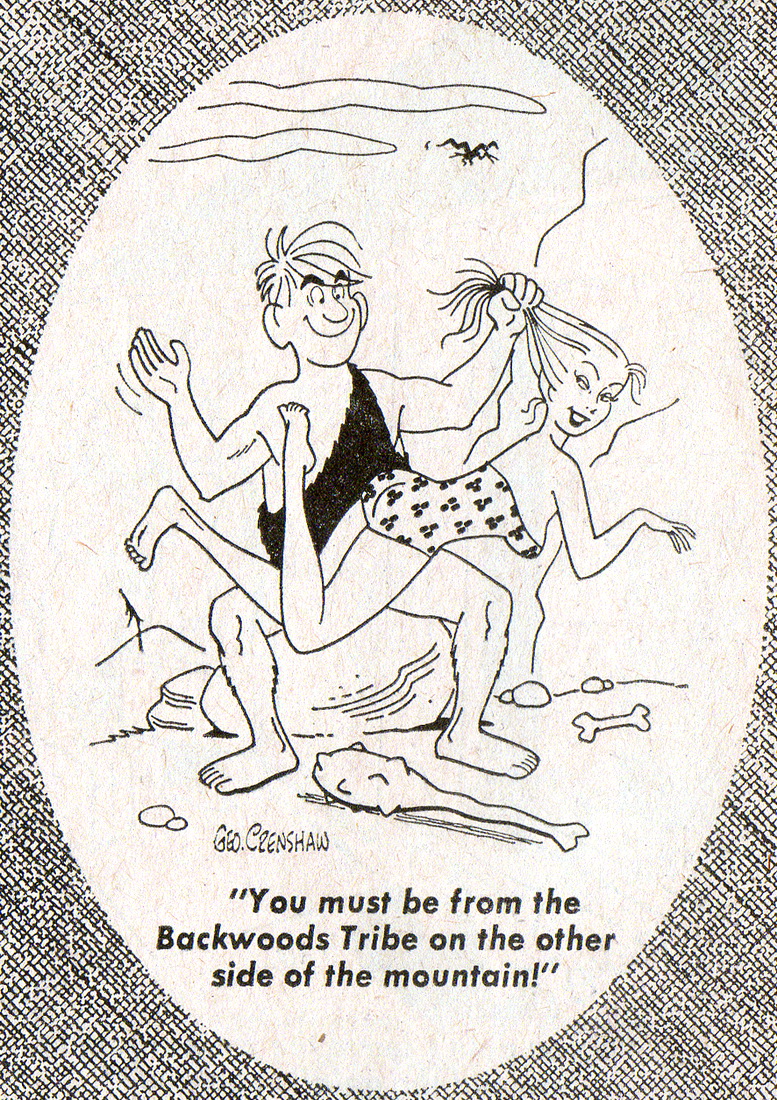 From Popular Jokes (May 1966). Scanned and posted by the Web-Ed on 01/18/2013 (click to double-size).
George Crenshaw was one of the second-tier men at Humorama. Not as prolific as the big guns, they nevertheless were there issue after issue keeping Abe Goodman well-supplied with cartoons. Crenshaw was probably as good as any of them - we can see from the two examples here that he was at least a decent draftsman. The cave girl is pretty, the OTK positioning isn't bad, and both participants seem to be enjoying themselves. We don't care for the hair-pulling, but we suppose that it's in keeping with the prehistoric setting.
Speaking of that prehistoric setting, the caption doesn't go with it at all: "You must be from the backwoods tribe on the other side of the mountain!" This sounds more like it should go with a spanking set in the hill country, but as long as we have a pretty girl turned fanny-up to be spanked, we won't complain too much.
We found this one in the May 1966 Popular Jokes, which we'll say a little more about now. The cover has a somewhat oblique "behind at risk" gag: the girl's behind is getting poked by some fishooks in the fisherman's back pocket. This type of gag is sort of a second cousin to the true spanking cartoon, so it's a welcome sight to most spankos. As for Popular Jokes itself, it was a full-size magazine and not a digest going all the way back to its inception in the early 60's, continuing in this format even when the digests died out around 1972, and in fact was the very last survivor of the Humorama line, holding out until the end in 1983.