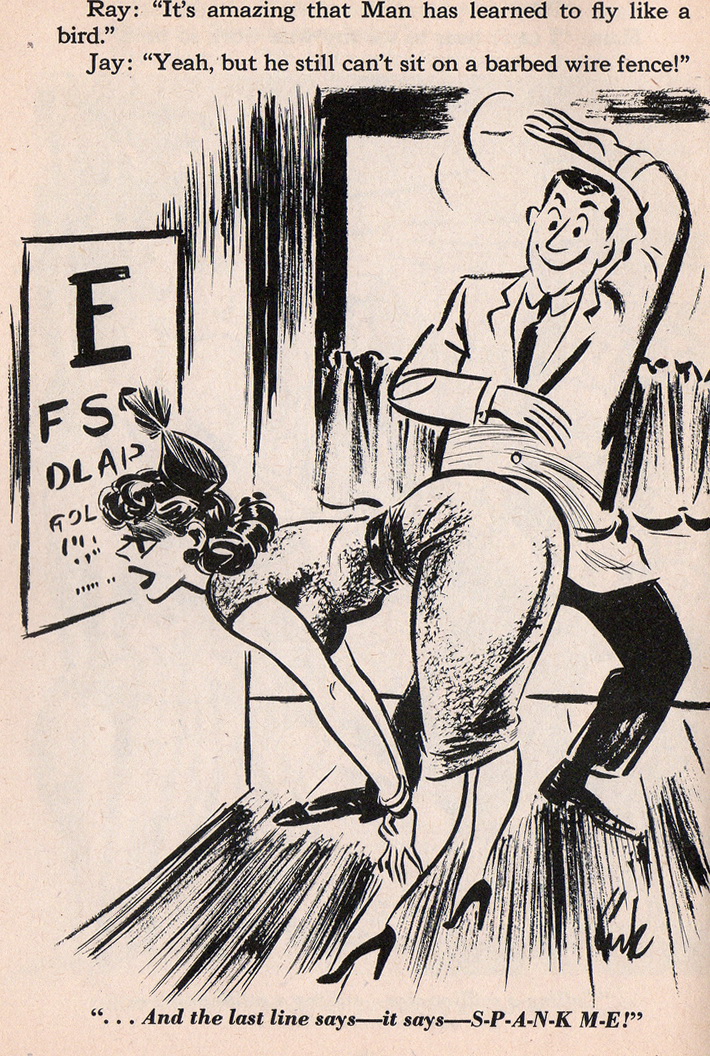 From Cartoon Parade (November 1962). From the collection of, scanned by and posted by the Web-Ed on 06/08/2012. Click to double-size.
We return to the work of Kirk Stiles now with an unusual cartoon in which he combined the "bend over the files" secretary spanking gag with the "spanking doctor" we have seen both by himself and by the other "Big Five" cartoonists Ward, Wenzel, and DeCarlo: an optometrist employs and unusual eye chart - one that extends suspiciously low down the wall - to get his female patients to bend over far enough to read the "bottom line" which says "SPANK ME". When she reads this out loud, he feels himself justified in giving her a mighty whack!
This is Stiles' best rendering of the bending-over position with the spankee-to-be providing the optometrist with a lovely target, and was taken from the November 1962 Cartoon Parade although it is quite possible that it had appeared earlier in 1955 or '56. It resembles some of the other Humorama "spankers" of that early period in that it does not use the ink wash which later became standard with some of the top cartoonists, including Stiles himself. We believed we had the only copy (among spankos) until recently when Dan Rivera posted his copy on the CSR Forum.