<!- IMAGE ->
<!- IMAGE ->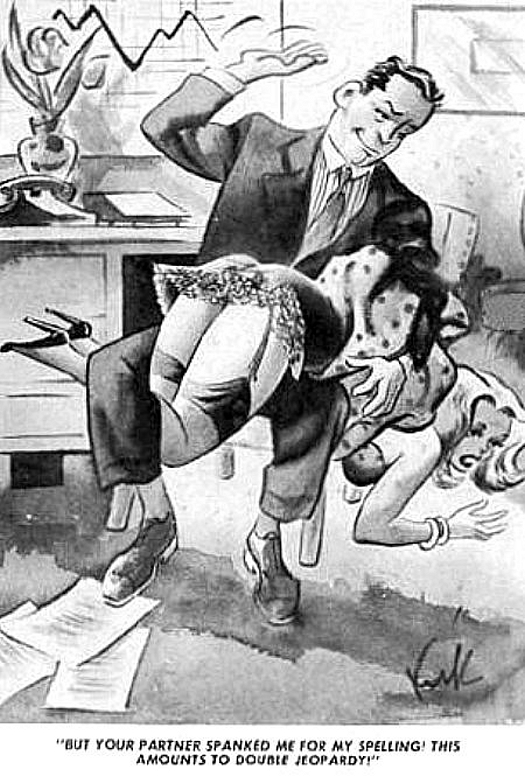 Posted by the Web-Ed 12/04/2009
Secretary spanking - could there be anything better in the workplace? There was a time when you could actually get away with this sort of thing - we read a credible report of an office spanking that took place in the 1930's, and of course there were various movie publicity stills that at least suggested it was o.k. - but basically, that time is long past. During the last seventy years, social norms have evolved, first to the realization that "A Secretary is Not a Toy" (the title of a song from the musical How to Succeed in Business Without Really Trying (1961), thence to overbroad sexual harassment legislation that makes it so easy to sue you won't likely get away with it, unless your name is Bill Clinton, in which case you will get away with it and end up rolling in wealth to boot. If you're an ordinary Joe, you'll wind up like that company that spanked the losers of a sales contest with a "For Sale" sign - they had to pay one of the spankees about $1.7 million in damages.
Now, we're not defending actual sexual harassment or even "non-consensual" office spanking (we figure that most office spankees were actually o.k. with it since they didn't balk at the idea of getting spanked) - it's just that today the rules are so strict you can't even engage in harmless banter any more, much less any spanking horseplay. Which brings us to the first of two examples of secretary spanking from the good old days. Kirk Stiles shows us how it was done - you found a flimsy excuse to administer a spanking and then milked it for all it was worth: "But your partner [already] spanked me for my spelling - this amounts to double jeopardy!" Her spelling may not be much, but at least she's read the Constitution, Amendment V: ... nor shall any person be subject for the same offence to be twice put in jeopardy of life and fanny; ..." Or something like that.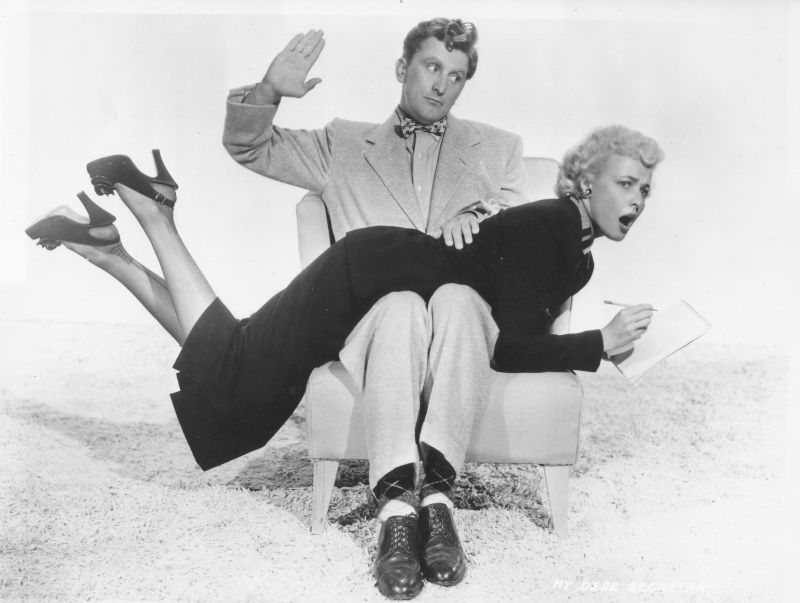 There was a time when a scene like this was just another day at the office - at least in the minds of Hollywood publicity men.
From My Dear Secretary (1949). A different Kirk - Kirk Douglas - spanks Laraine Day.
For another example of Kirk Stiles secretary spanking, see here.