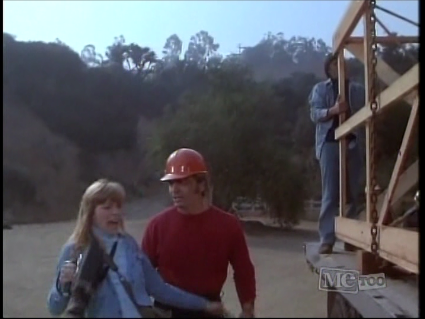 "Someone ought to paddle your pants!" Larry Pennell swats Candace Clark in Banacek.
We know that a one-off butt-slap is nowhere near as good as a full-blown OTK spanking, but it's still a little fun and sometimes the best we can do. That was the case in Banacek, a show which is pretty much forgotten today. And it's a pity, because even though there were only 17 episodes made from 1972-74, they had style, class, and a memorable leading man in Thomas Banacek (very well played by George Peppard). The reason there were so few episodes is that Banacek, as part of the NBC Mystery Movie, occupied a rotating position in the same time slot with other series like the forgettable McMillan and Wife, the campy McCloud, and the surprise hit Columbo (the most successful by far and probably the only one people remember today). But Banacek was the most interesting of the bunch.
In this episode, No Stone Unturned, film student Gretel (Candace Clark) makes something of a pest of herself by filming crane operator Pete Biesecker (Larry Pennell), who gives her a solid whack on the butt. If you look carefully, you'll see that when the camera angle changes, the director had Clark reposition her bag to the front of her left hip to give Pennell a clear shot at her behind! Clark turns around and gives the muscular Pennell a return whack which he couldn't have felt, and we'd probably have edited this out except we'd have lost Clark's suggestive line "Promises, promises!" after receiving her swat, in response to Pennell's "Someone ought to paddle your pants!"