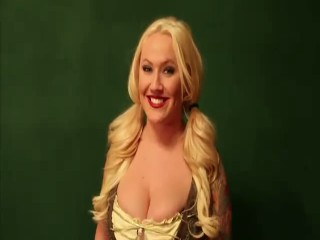 Candace Gillespie, who was determined to feel the wooden paddle at the Hofbrauhaus Las Vegas!
This video should help curious viewers better understand how the paddlings at the Hofbrauhaus Las Vegas work. A woman by the name of Candace Gillespie decided to explore the Hofbrauhaus Las Vegas, and she took a cameraman with her to record the experience. The resulting video was nicely photographed (for the most part), edited, and posted on YouTube. The version you see here was further edited by us to remove extraneous subject matter (anything non-spanking), add some sub-titles, and brighten up the paddling scene a little.
Now Candace had heard the rumors of spankings taking place, and in fact she seemed very eager to find out more. Upon making inquiries of the bartendress, she learned that when you order any kind of a shot, the waitress brings it out to you on a wooden paddle, then gives you a good whack with the same paddle - a shot and a swat, you might say.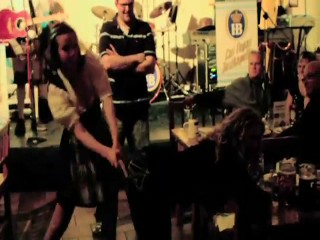 Candace eagerly takes her swats! Nice positioning, but the scene is too dark.
The bartendress also gave some advice about "walking it off" afterward - "People have cried," she said, "But it's fun." Undeterred, Candace samples the food and the beer, and then says with a big smile, "O.K., enough of this - let's get to the shots!" Of course, what she really means is "Let's get to the swats!"
We wish she had filmed this during the day, because filming at night in a bar always results in not having enough light. Also, she's wearing dark pants (spanking video producers please note: the spankee should NOT wear dark slacks or jeans!).
Candace has good looks and a warm, outgoing personality, and seems to have a real interest in spanking. While we thoroughly enjoyed seeing her get paddled (the positioning was good with her back arched and bottom turned up), and she did hop up and down a little after the second swat, it just doesn't seem to us that she received quite enough. If you really want to receive a good paddling, Candace dear, you'll have to come to Chicago and look us up - we'll see to it that you're well taken care of!