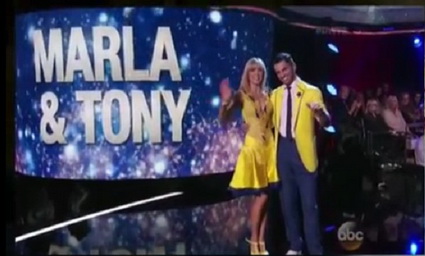 Marla and Tony on Dancing withe the Stars.
The appeal of Dancing with the Stars has always escaped us, but the show is apparently very popular and has been around for awhile as of this writing (2016). Recently, CSR Resident Artist Dan Rivera discovered that there had been a couple of spanking scenes in the dances, and he dutifully reported this fact on the CSR Forum.
Just as dutifully, we tracked them down, determined to present them here on the main site, despite the increasing difficulties we've had with encoding video players in our pages (detailed elsewhere), which is why it's been almost a year and a half since our last video page. We've completely recoded the Windows Media Player here, and we fortunately don't need YouTube's player this time. Not much needs to be said about the dance - we're only showing the brief little spanking and a few seconds of video around it.