The musical Gypsy (1959) is based on the memoirs of probably the most famous stripper in American history, Gypsy Rose Lee. Most of the play concerns her young years, when known as Louise her monster show business mother Rose forced her and her younger sister June into Vaudeville. In the 1962 film version, there is a scene in which their manager Herbie has unwittingly booked them into a Burlesque house. Louise is still rather innocent and hasn't become a stripper yet, and as she and the other girls in the act arrive backstage they see a girl get a good swat with a paddle onstage.
We extracted this all-too-brief paddling from our DVD of the film. Apart from its one-swat brevity, the other problem with this scene is that the director shot it from the point of view of the girls who are off stage right, therefore we see the action at a distance. In consequence, we had to blow up these extracted stills causing some loss of resolution. There is some further discussion of Gypsy in the Picture Gallery where we posted a few other stills years ago.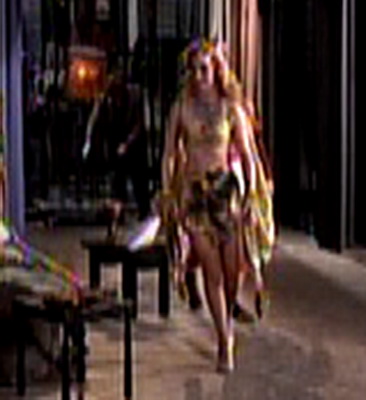 A devious master sends his slave to retrieve his violin.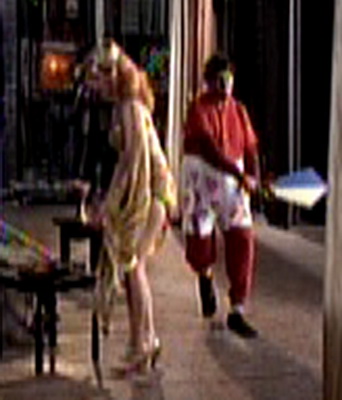 He sneaks up behind her with crazy-looking paddle in hand.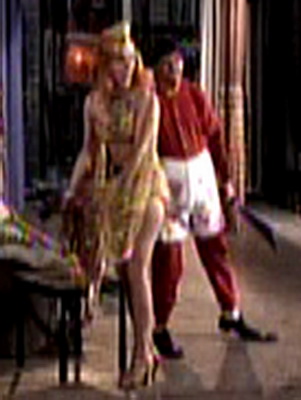 "YEEOWWWWW!"
Low-level humor to be sure, but that was Burlesque for you, and we'll take it! We have three versions of the clip for you.
The scene with context: Louise (Natalie Wood) and the girls arrive at the theatre where they have been booked as "the act that's supposed to keep the cops out". Not knowing this, they're somewhat shocked as they see a risque sketch with a paddling being rehearsed.
The swat by itself - it's the important part, after all.
The swat by itself in slow-motion - makes it easier to appreciate this high-water mark in the history of the theatre.