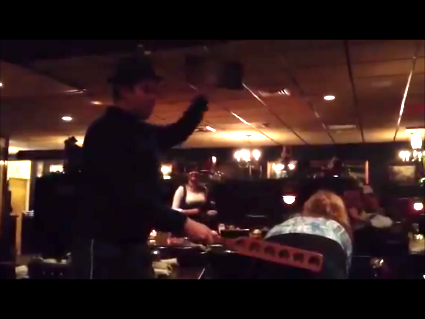 Melissa willingly assumes the position. She shows good form with her head up as the paddler takes aim for the target.
We're quite interested in bar paddlings because of what they reveal psychologically, but most of them, committed to video by the widespread availability of modern technology, are sadly lacking in pure spanking quality. This is one of the better ones, however, so we thought we'd bring it to CSR's readers. Our spankee is a young woman named Melissa, out for a fun time with several girlfriends and (we think) her boyfriend.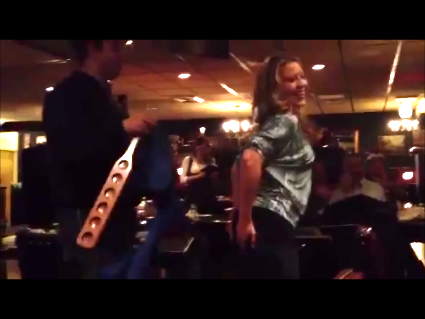 Melissa feels the sting of the paddle, but has a big smile on her face anyway.
Melissa takes a medium swat, just enough to sting a bit, and she does so with good grace. She rubs the affected area, something we always love to see so we know she felt it! There are two problems with the scene: (1) poor lighting (for which we tried to compensate with our video editor); and (2) just before the swat, the boyfriend lets out a distracting "Hit that bitch" for some reason. If it hadn't been so close to the swat, we'd have muted the sound for a second or so.