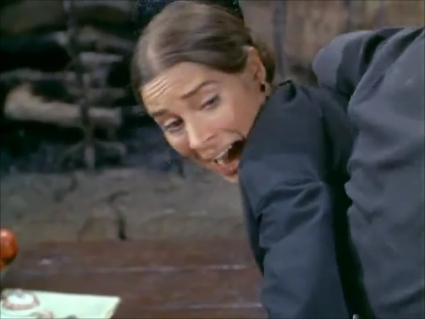 Joan Hackett feels the sting as Pernell Roberts lays on the spanks. The "Woman of Fire" now feels her fanny on fire!
Once Robin got us started thinking about Bonanza, we searched further and found that Chross had put out a version of spanking #3 on YouTube, which we have further edited down to its essentials. This one was a "Taming of the Shrew" type of plot with oldest son Adam (the late Pernell Roberts) taking Joan Hackett over his knee.
Roberts was a good choice for the role of spanker, since he was the oldest son and had perhaps the most masculine presence even though Michael Landon was a little better-looking. Hackett, not a particularly well-known actress, gave a very fine performance here as we will see. This is a fairly extended scene, even though we only see a few swats actually land, and the reactions of the characters who witness the scene are excellent - big grins from all the men and a look of horror on the younger sister's face as she sees her big sister receiving her long-deserved comeuppance.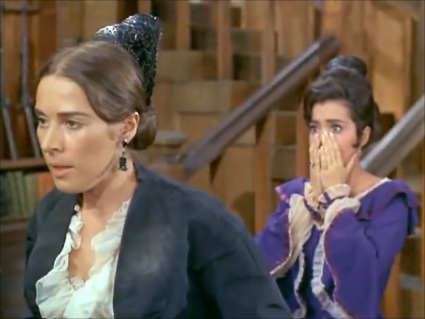 Her bottom smarts as her younger sister (Susan Silo) looks on in horror.
After this page first appeared, both Dan Rivera and JS666 provided some additional information: To begin with, I had mis-identified the younger sister as a female servant, and I didn't recognize her as Susan Silo, who was spanked herself in the episode "Babette, Go Home" on McHale's Navy! (You can see a still from the spanking scene in Michael Gray's article Spanked Daughters of the Slapstick"). JS666 also summarized the plot for us:
"The plot of the 'Bonanza' ep is hilarious and revolves around the problem that the younger sister has many admirers, but she can't marry until her older sister has. Unfortunately, Joan is a total shrew that no one can stand. There is a candidate for her hand coming, so everyone enters into a conspiracy to 'tame' Joan, which they do. When the suitor arrives, however, it turns out that he LIKES fiery women and was attracted to her for precisely that reason. So now everyone has to work on Joan to turn her back."
He also mentions that "Joan, incidentally, got a one-smacker from an unidentified guy at the beginning of her most famous film, 'Support Your Local Sheriff.'"

Dan thinks that a stunt double took the swats in place of Hackett but that Anjanette Comer took the swats herself in the first clip (Love Me Not).