<!- IMAGE ->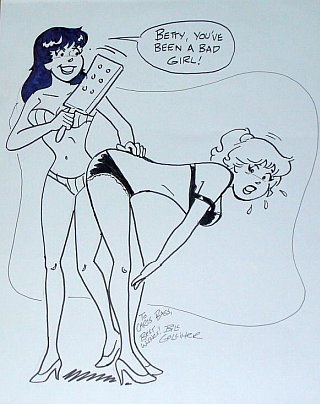 © AP. Posted by the Web-Ed on 10/23/2009.
We come now to the sixth and final entry in our "Riverdale Spankings" series. "Betty, you've been a bad girl!" says Veronica, smiling with anticipation as Betty, looking worried, assumes the position (nice expressions, by the way). We suppose it isn't really very likely that Veronica would spank Betty, but once we see one person holding a paddle while another bends over, we tend to forget about asking any more questions! One question we do have, though, is who drew this nice cartoon. It was rumored to have been done by one of the original artists, and is certainly in keeping with the Archie house style, which is to say it looks a lot like Dan DeCarlo. DeCarlo drew the comics for many years and was the company's chief artist after the original creator, Bob Montana, passed away. Yet it is not signed either as "DeCarlo" or as his alias "DSD" (see the Humor Page for some examples), but as Bill Galligher or Golligher. We can't find any record of anyone by either name drawing Archie comics, so this will have to remain an unsolved mystery, at least for now.

As with the previous example, we found this one at The Spanking Blog several years ago.