<!- IMAGE ->
<!- IMAGE ->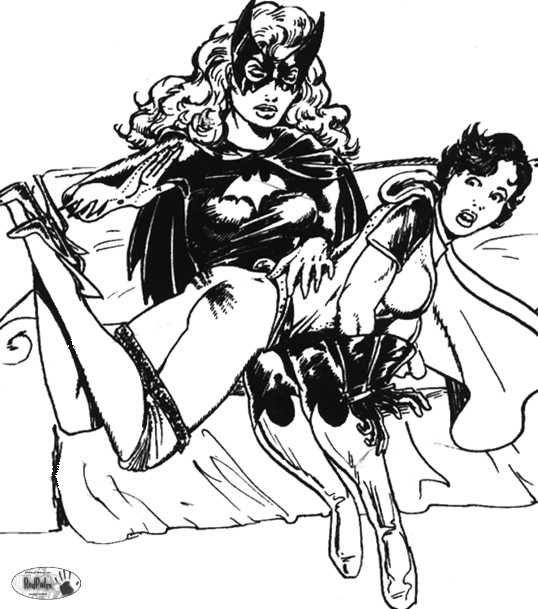 It may surprise you to know we have a thing for superhero spanking. While we have our preferences, in general we're not too particular about who spanks whom, except that we're lukewarm regarding F/M scenes, and downright queasy when it comes to M/M ones. That's why this entry from Brian Tarsis may be the only page on the CSR site that features Robin getting spanked. Of course this is a later, female Robin and not the original one, but we'll take F/F over F/M any day. This drawing was originally commissioned by Shadow Lane for their Stand Corrected magazine, a fact we hadn't known until recently (March 2008) when Tony Elka over at Shadow Lane mentioned it to us. Tarsis is not only a capable artist, he is genuinely into the scene. You can see more of his fine work at Shadow Lane or on his own website here .
You may have noticed the "Red Palm" imprint in the lower left-hand corner. I have no idea who they were (I use the past tense because I can find no trace of them anywhere on the internet, except for one or two other drawings with the same imprint). Tony didn't know either, and if he doesn't, probably no one does. Anyway, we're pleased to be able to give the credit for this rare example of Batgirl giving rather than receiving a spanking where it's due - to Tarsis.
Batgirl and Robin are © DC Comics, INC.
We honestly couldn't tell you this female Robin's real identity - once DC started pulling stunts like killing off the second Robin, Jason Todd, based on the results of a readers' poll (!), we lost interest in the character, and in DC generally. Now, in the older comic books, the original Robin (Dick Grayson) did get spanked several times in the 1950's - unfortunately, each time by Batman, which helped fuel all those nasty "Batman is gay" rumors. (For more on this subject, go to Superdickery.com, which has some hysterical Batman excerpts, our favorite being from the "Batman's boner" story, penned by the late, great Bill Finger in a more innocent era). Supposedly, this is why the character of Dick's Aunt Harriet was brought into the series, the idea being that her feminine presence in the Wayne household would make it seem less like a homosexual wish-fulfillment fantasy (a notion which we think is chargeable to Dr. Fredric Wertham in his notorious book, Seduction of the Innocent).