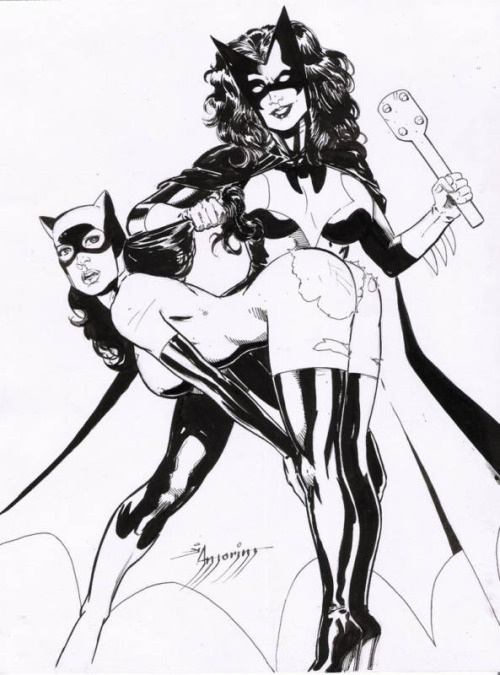 Art by Antorino(?). Characters © DC Comics Inc. (Click to enlarge).
A fairly natural spanking pairing that we haven't seen before on CSR is Batwoman spanking Catwoman. We love to see a super-villainess bending over for the paddle, and that's what we have here with Catwoman made to assume the hands-on-knees position and Batwoman employing a rather long paddle - with holes! This positioning tends to force the spankee to arch her back and stick her bottom out (very important) and is done quite well; Batwoman helps Catwoman along by pulling her head up. The artist is unfortunately unknown to us. His signature appears to be "Antorino" or something close to it.
It's been almost a decade since we explained who Batwoman is (back in Batwoman Spanks Two Batgirls) and since that one featured the original Batwoman and we later removed the art at the artist's request it isn't of much value as a character guide any more). This Batwoman, like her earlier version, is really Kathy Kane, wealthy socialite, who inspired by Batman's example decided to go into the super-heroing business. This modern version has a different costume and is a lesbian, which seems completely gratuitous to us. We wouldn't even mention it here except that it raises the possibility something other than pure punishment (which Catwoman certainly deserves) is in play here.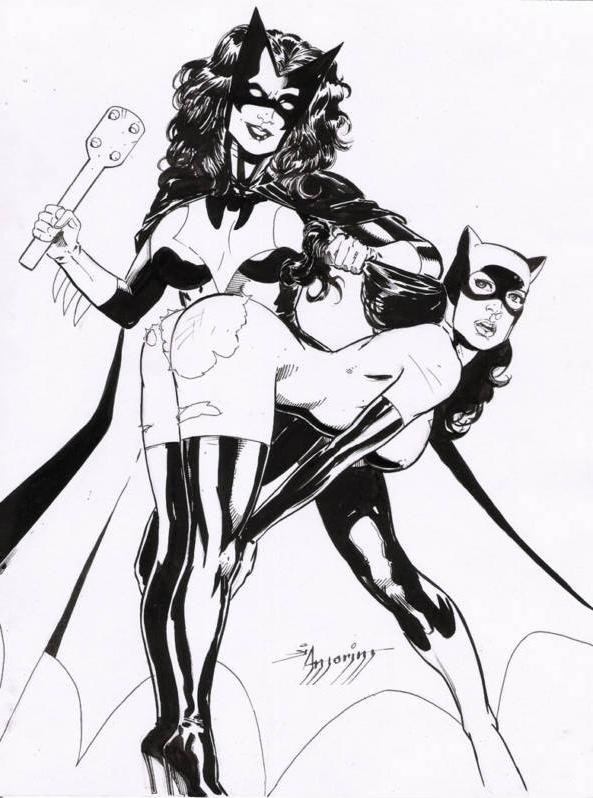 Reversed image. Characters © DC Comics Inc. Posted by the Web-Ed on 06/17/2016.
Here is a reversed version we picked up somewhere. Since neither have the signature mirror-imaged, we don't know which came first. Looks like a pretty good paddling either way! We found one of them at Comic Images.