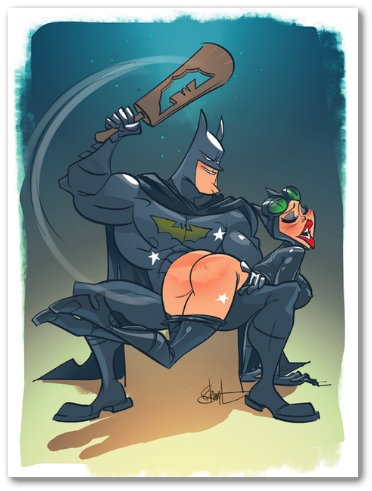 Batman uses his legendary Bat-Paddle to stamp his bat-symbol on Catwoman's rear end! Art by Otto Schmidt. Characters are © DC Comics Inc. Posted by the Web-Ed on 08/28/2015. There was a caption on an alternate version we found which read, "Since the Gotham prison [system] could not correct Selina, Batman offered to help."
We don't often find spanking art on other people's spanking blogs, but it does happen occasionally as it did here with this little gem we found on The Cherry Red Report: Batman is stamping his bat-symbol on Catwoman where, alas, few people are likely to see it. And we'll stamp our seal of approval on his actions, especially since the OTK position is effective in this composition (in actual practice there could be a balancing problem because of Batman basically using only one leg) and because once again an artist has assumed that with all his Bat-paraphernalia, Batman would of course employ a Bat-Paddle when spanking.
Speaking of the artist, he's a newcomer to CSR named Otto Schmidt who, despite his German-sounding name, appears to be Russian. He has a caricature style that resembles that of Spanking-Toons, but despite the overall angularity he shares with that artist he manages to give Catwoman curves where a girl wants them and we want to see them! Fine expressions too as Batman seems both determined and satisfied as the swats he's applying have left Catwoman in a state of purr-fect bliss. Schmidt has drawn some other superhero stuff but this is the only spanking scene of his we have ever seen.