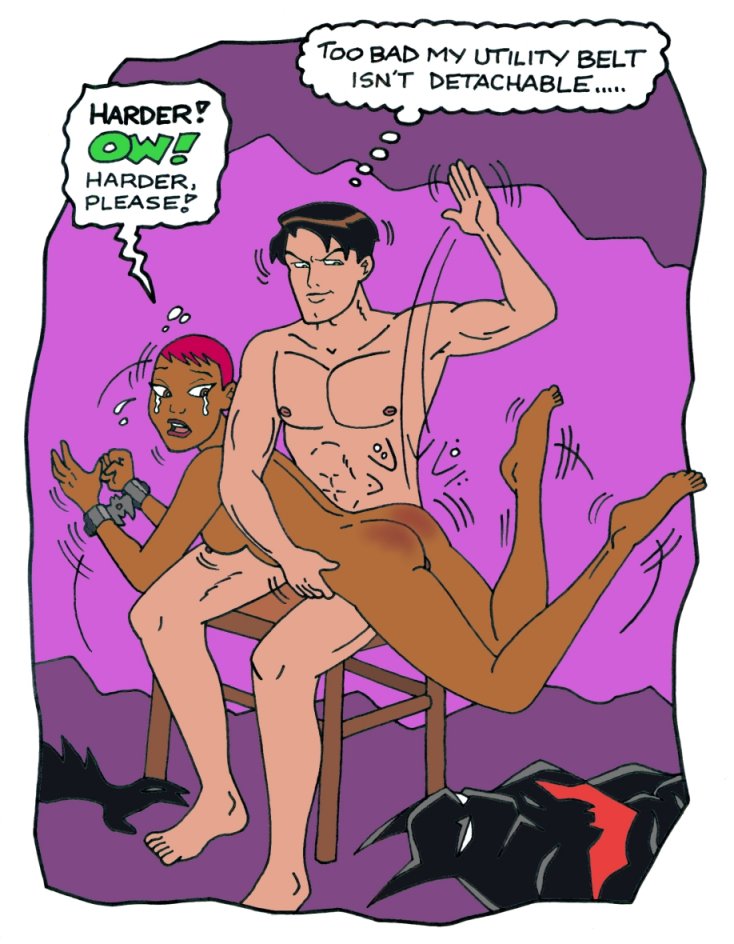 Art by Kevin Karstens from an idea by Bawdy Bard. Characters © DC Comics Inc. Posted by the Web-Ed on 09/24/2010.
For the sixth installment in our current series of superhero spankings, and the last one involving the Bat-Family, we have something really unique: the only spanking, as far as we know, involving characters from Batman Beyond (about which more below for those not familiar with the show). Here, Terry McGinnis (Batman) gives his friend Max the treatment she secretly longs for, complete with Batcuffs. In a true Bawdy Bard touch, Terry muses "Too bad my utility belt isn't detachable ..." while Kevin Karstens once again deftly balances humor with sexiness, drawing the characters "cartoony" enough to amuse us while keeping the anatomy realistic enough to give the scene some sizzle (in more ways than one, now that we think about it).
Batman Beyond was an animated series that was produced for three years (1999 - 2001) by Warner Bros. Animation. In a way, it was a continuation of Batman The Animated Series, being set about fifty years later when an aging Bruce Wayne finds that he needs a younger man (16-year-old Terry McGinnis) to take over as Batman. The production values were high, although not quite as high as on Batman TAS, but the real problem from our point of view was the bitter tone of the series. All the characters pretty much went around being pissed off at one another for no particularly good reason. Would it have been too much to ask that Bruce show some paternal affection for Terry, who is loyal to him and to the ideal of public service he always represented, or that Barbara Gordon (now gray-haired and having taken over her father's old role as police commissioner) evince some love, gratitude, or respect for Bruce, considering how great a man he had been and how much he had done for her and for Gotham City? The superhero genre is inherently limited artistically, but it is serviceable provided the creators understand the Romantic spirit. It appears that at some point, DC/Warner was overcome by an anti-Romantic animus that really worked against the genre's potential, limited as it is. It produces a dark, bitter tone which is unpleasant even in a mature context, and is in our view entirely out of place in a children's cartoon.
We also touched upon this point regarding Batman Beyond: Return of the Joker here.