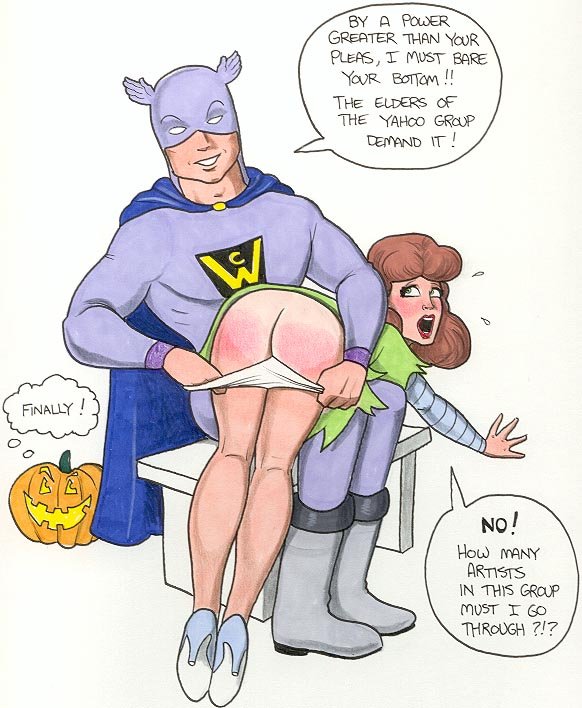 Captain Woodshed prepares to administer some justice. Art by Endart (click to increase in size). Captain Woodshed is © Dan Rivera. O. T. Katie is © by Hugob00m. Posted by the Web-Ed on 08/03/2012.
During Super-Spanking Summer II we're celebrating superhero spankings, and no survey of this subject would be complete without mentioning the one superhero who routinely employed OTK spanking as a method of correcting criminal behavior - Dan Rivera's Captain Woodshed! Most unusually, this example comes not from Dan himself but from Endart. We didn't recognize the spankee when we first posted this page, but based on her exclamation we thought this might have been a kind of art trade from an old spanking group, perhaps Arild's. We were right about that much, and then both Phil (Overbarrel) and Hugob00m helped us out with the details. First Phil on the group:
"it was posted at 'Arild's Moviespanking' which was a yahoo group that Dan and I belonged to years ago along with Endart and Dave Wolfe."
Then b00m:
"Actually, if you take a look at the hairstyle of the Captain's spankee, you'll see that she's [O.T] Katie! Prior to that drawing by Endart, Dan had done a cartoon, at my suggestion, that Katie should pass through a dimensional portal into an alternate universe, the universe in which Captain Woodshed upholds law and order. (Of course, even in Captain Woodshed's universe Katie wasn't a true villainess, she just annoyed the Captain by playing with the little hands on the side of his mask!) After Dan drew his take of the story, Endart decided to add his version of what might happen if Katie and the Captain ever crossed paths."