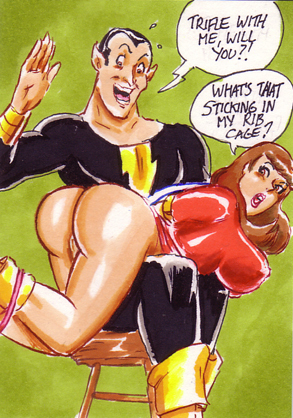 Art by Joe Gravel. Characters © DC Comics Inc. Posted by the Web-Ed on 07/27/2012.
Many of us have wanted to see Mary Marvel spanked, but there's always been one big problem: who could do it? Mary is so powerful that in the actual comics she administered five spankings but received none herself (we're not going to list them here but you can find them by using Google Search on the Home Page or by consulting The Comics Spanking Data Base). It's a lot like the Supergirl situation - frustrating. Independent art is another story, and we've seen one example with Mary getting the OTK treatment - Supergirl spanks Mary. Of course we prefer that Mary's spanker be male, and three possibilites suggest themselves because they all have the same super-powers she does: Mary's brother Captain Marvel, Captain Marvel Jr., and longtime Marvel Family villain Black Adam, whom we see here.
Joe Gravel had done a lot of superhero humor cartoons, some of them pornographic, but we knew of only one spanking (Veronica Spanks Betty) until recently when we discovered this one and several others (which we'll also be seeing) at some place called Xbooru. Gravel's humor often revolves around exaggerated bosoms, and he gives Mary one here along with a nice big bottom. The OTK positioning is a little shaky but does offer a nice view of said bottom. He also engages in some gratuitous "exposure" as we have called it elsewhere (you will find a discussion of this subject on the Bulletin Board), probably reflecting his comfort with pornographic material. Overall, we're happy to see one of the more under-spanked superheroines turned OTK again!