It's no secret that we love to see Lara Croft, Tombraider getting spanked - there's something so irritating and provocative about her arrogant "Ms. Tough Guy" attitude that we cannot conceive of anything more satisfying than seeing her taken down a peg by having her fanny warmed, preferably by a man. But it is a woman that Julius Zimmerman chose to chastise her here, namely Elvira, Mistress of the Dark. We could not find the original version of this drawing, but from the animated version (below right) which we found at Yeowch, we know that Zimmerman's original title was "Wrong Tomb Raided". We don't know where the version at left came from, or who colored it.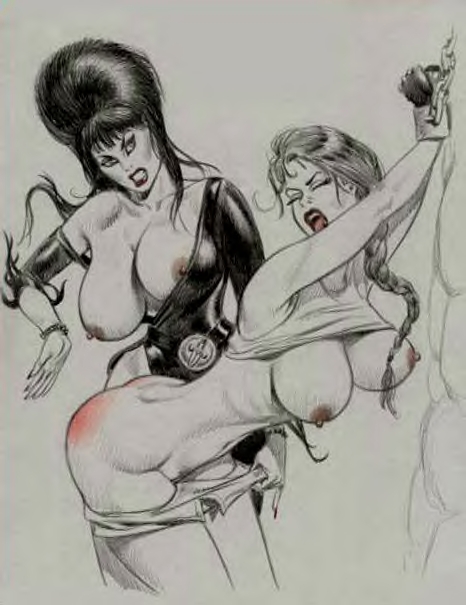 Lara Croft learns that she should have been more careful about exactly whose tomb she raided! (Click to increase in size).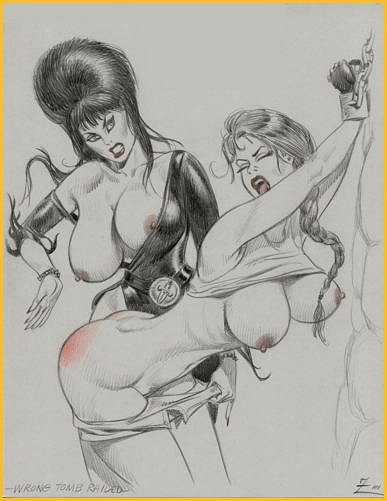 Posted by the Web-Ed on 11/01/2013.
Now having Lara punished for her tombraiding activities is a natural idea, and we can imagine countless variations on that theme, but Elvira always struck us as more of a Valley Girl with Gothic make-up than an actual creature of the night. Still, she does an adequate job of laying on the spanks here despite being encumbered by Zimmerman's trademark oversized boobs. We also like Lara's expression and the fact that she's fairly well bent-over.