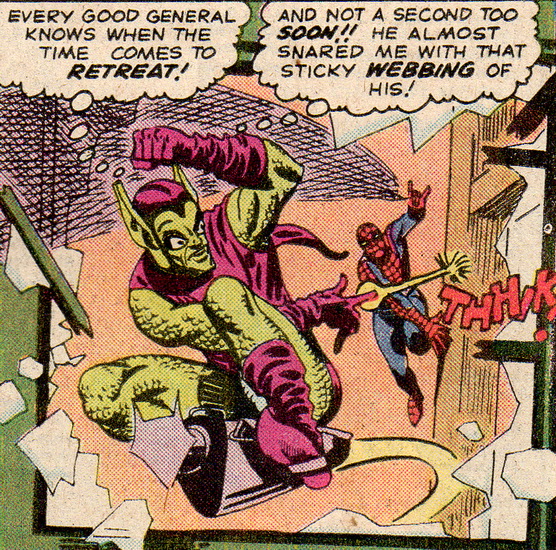 © Marvel Characters Inc. (Web-Ed's collection).
This is the last of our current "Spider-Man Family" spankings, and for the benefit of anyone who may not remember these characters from the days when the Spider-Man comic was in its prime, let's see them first as they appeared then before we get to the spanking action.
At left is the Green Goblin, our spanker, from Amazing Spider-Man #27 (August 1965, art by Steve Ditko). Ditko had just under a year left in his tenure on the strip, which he had drawn from its inception. Interestingly, it was a disagreement with writer/editor Stan Lee about the Goblin that led to his quitting the strip: he wanted the Goblin's real identity, which was unknown to the reader at this point, to be someone the reader had never met before, while Lee insisted that making the Goblin's true identity a character the readers already knew would be far more powerful. Much as we love Ditko's work, we have to side with Lee on this one; integrating plot with soap opera-ish subplot was an important leap forward for the superhero form, and Lee's use of this device was one of the reasons Marvel really took off in the 60's, eventually surpassing rival DC in sales.
Below is the very first time Peter Parker met Mary Jane Watson, our spankee, from the classic Amazing Spider-Man #42 (November 1966). Peter has put off meeting her for some time, being understandably cautious about blind dates, but when he finally does, he realizes that he's "hit the jackpot" as she herself tells him.