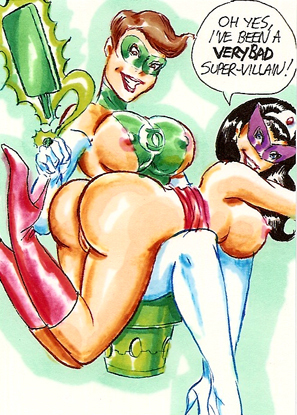 A female Green Lantern prepares to spank her arch-enemy Star Sapphire with a paddle formed of her emerald energy. Art by Joe Gravel. Posted by the Web-Ed on 08/15/2014.
Let's take a look at another of Joe Gravel's many spanking humor cartoons involving superheroes. Now, Green Lantern, at least the Silver Age Green Lantern of Earth to be more specific, is not exactly overrepresented in the world of spanking art: the closest we've come up until now is Razer spanking Dark Aya, which featured two characters from the Green Lantern animated series. As a matter of fact, even now we still don't have a true Green Lantern spanking, because for some reason Gravel took a leaf from Adam Walters' book and reversed GL's gender, turning him into a girl! We don't mind girl/girl spanking, but if your spanker is already male, why not go with that rather than giving him a sex-change operation? It really strikes us as rather weird, especially as GL/SS is a very natural spanking combination, about which we'll have more to say below.
Since Green Lantern can will his (or her) power-beam into any shape, there's no reason not to make a paddle out of it, the better to warm Star Sapphire's behind. Good call by Gravel on that one for humorous purpose and as usual he gives us decent OTK positioning and a nice round bottom on the spankee. We found this one along with some of Gravel's other work on the porn site Rule 34.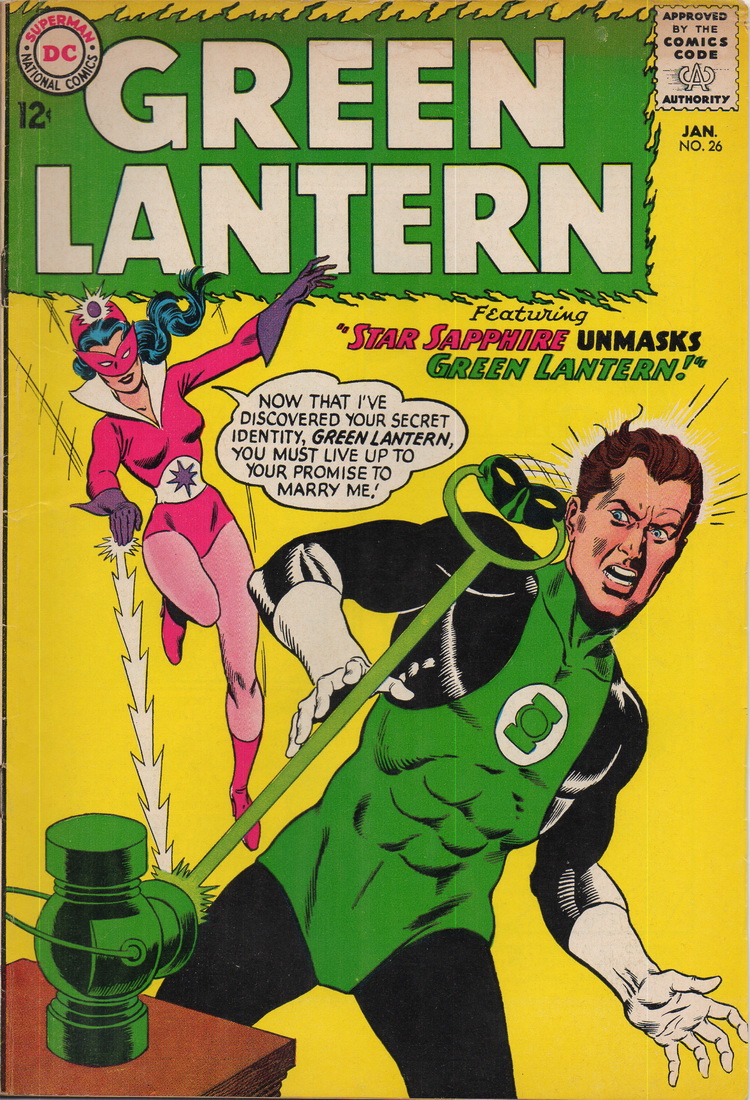 Cover of Green Lantern #26 (Jan. 1964, Web-Ed's collection). Art by Gil Kane and Murphy Anderson (some sources list Joe Giella, who inked the interior story). Posted by the Web-Ed on 08/15/2014.
As the Silver Age recedes further and further into history, it becomes more and more necessary to explain who SA characters are. On the cover of Green Lantern #26 we see Green Lantern and Star Sapphire as they looked throughout that era and well into the Bronze Age. Now Star Sapphire is actually sort of a dual personality, sharing the body of Carol Ferris with Carol's native personality. Carol is the employer of Hal Jordan, GL's secret identity, although she doesn't know that Hal is GL. Hal loves Carol but will only marry her as himself, not GL, while Carol is more interested in GL - got that? It's actually taken straight from the Superman-Lois Lane-Clark Kent "triangle" although it made far less sense psychologically, since Hal Jordan was a good-looking test pilot whom Carol logically should have found attractive, and not a milquetoast like Superman's made-up Kent personality.
And so finally we come to why this would have been such a natural spanking combination: by spanking Star Sapphire, GL would be spanking a villainess, his female boss, and his reluctant girlfriend all at the same time - what satisfaction! Someday perhaps we'll get to see it.