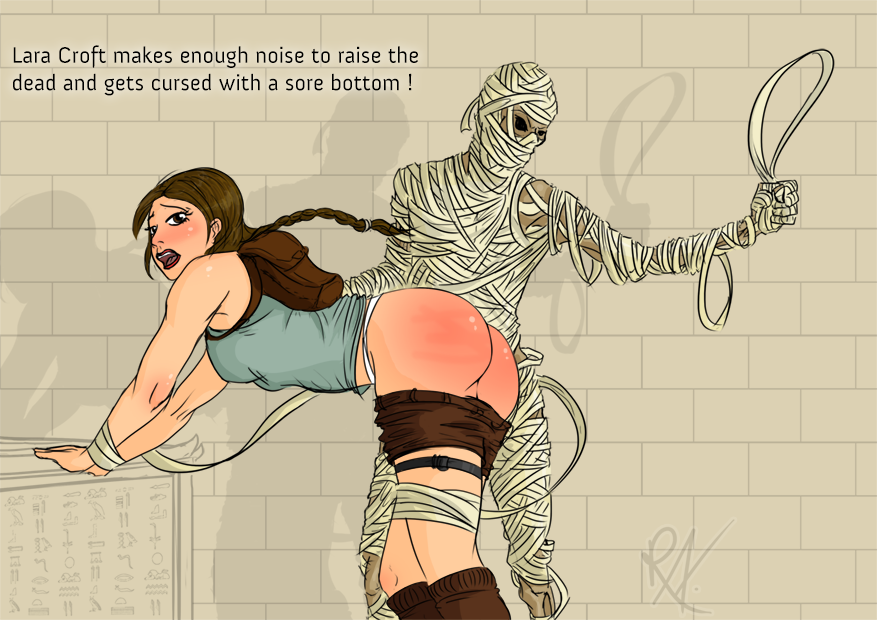 An irate Mummy spanks Lara Croft after being rudely awakened by the noisy tomb-raider. From an idea of the Web-Ed as improved by Bawdy Bard, art by RAK. Posted by the Web-Ed on 07/25/2014 (click to increase in size).
Years ago we made a list of commission ideas that we planned to have done when we had the money. Since the economy has not yet recovered from the recession of 2007-2009 we have not been in a financial position to act on them - until very recently when RAK offered to do some at a discounted rate in order to benefit Anime OTK. We jumped at the opportunity to get one of our ideas put into visual form, and here it is.
Lara Croft once again picks the wrong tomb to raid and gets spanked by an irate mummy. This is similar to last week's Mummy Raid Gone Wrong but we had the idea first. One difference is that ours is M/F, so now everyone should be happy. Lara is bound by the mummy's bandages and they also are used as a belt-like spanking implement as she is bent over to pay the price for disturbing his sleep of centuries.