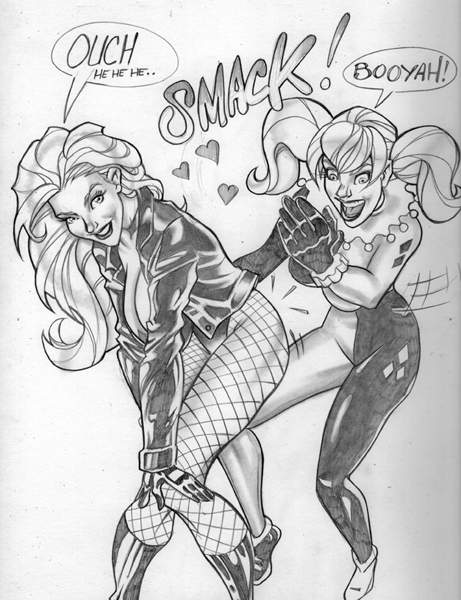 Art by Aaron Yu. Characters © DC Comics Inc. Posted by the Web-Ed on 09/14/2012.
Black Canary has never been anyone's first choice to see spanked among superheroines, but nonetheless an undercurrent of interest has always been there (see e.g. this discussion of Black Canary spanking on the CSR Forum). In consequence, while there hasn't been a huge amount of independently-produced art featuring Black Canary, there has been some, and we'll see a couple of examples now beginning with this one from the artist Aaron Yu. Yu has done quite a few pen and ink drawings of superheroines, typically with extra-large bosoms, but we're not aware of any other spanking work.
Yu is pretty good with that pen as we can see here, and his take on these two characters is quite original. Harley Quinn is shown without her mask or headgear, while BC is pictured in her regular costume (she didn't wear a mask) with perhaps a little extra gloss on her jacket suggesting leather or latex rather than her usual cloth. Both girls seem to be having such a good time as BC bends over to receive swats from Harley it's possible that BC has forgotten she's supposed to be bringing Harley in! Fine expressions on both their faces by Yu. We'd like to see him do some M/F superhero spankings.