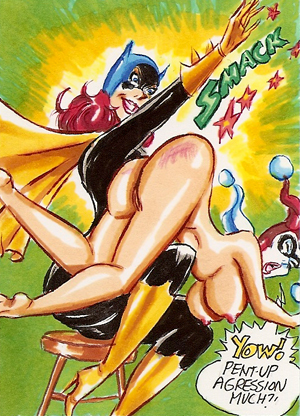 Art by Joe Gravel (signature missing). Batgirl and Harley Quinn are © DC Comics Inc. Posted by the Web-Ed on 08/31/2012.
"Payback's a bitch" as they say, and Harley Quinn, who played the bongos on Batgirl's butt last time now finds out how true that saying is as her own bare bottom becomes the target for Batgirl's swatting palm. "Yow! Pent-up aggression much?" asks Harley as Batgirl, having stripped off her costume, proceeds to set her behind ablaze!
Joe Gravel once again displays a fine sense of humor and his usual exaggerated anatomy. The pain stars and Harley's pained expression both reinforce the humor and serve as an erotic counterpoint to it. That certainly must be a pretty hard whack since it's lifting Harley's rear up off Batgirl's lap!