We've recently seen Vampirella spank Batgirl, but of course we prefer to see Vampi herself turned over a male knee, and that's what we've got here even if Jerry Lewis is not the first guy who comes to mind as a likely spanker! The Israeli artist Yatz, whose work has been seen elsewhere in this gallery, did this one some years ago. He's not sure any more, but he thinks it was a commission. The setting appears to be somewhere in Jerusalem (please don't ask us to translate that sign). Why Jerusalem? You might as well ask, "Why Jerry Lewis?"
Which reminds us that CSR's younger readers may very well not know who Jerry Lewis is. We won't go through his entire biography, but he started out as a nightclub comic in the 40's, then enjoyed his greatest success as half of the team of Martin and Lewis (1946 - 1956), with Dean Martin providing the good looks and singing ability to balance Lewis's comedic antics. After the partnership broke up, Lewis became idolized in France during the 60's - we're still not sure why - and he had his own comic book here in America published by DC!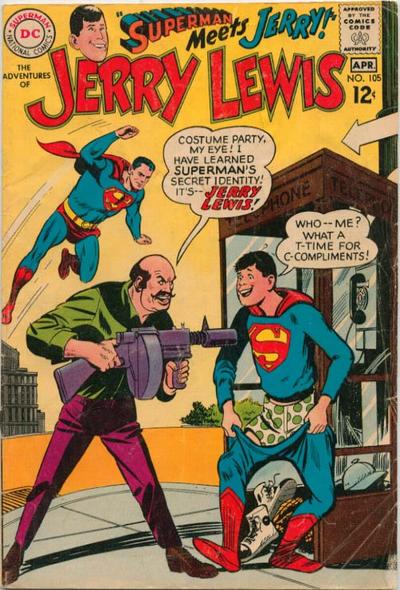 The Adventures of Jerry Lewis #105 (March-April, 1968). © DC Comics Inc.
Here's an example of the kind of sophisticated humor that prevailed in The Adventures of Jerry Lewis. The cover art is by Bob Oskner, who seems to have drawn Superman's figure from a model by longtime Superman artist Wayne Boring.
There's something extremely incongruous about having Jerry spank Vampirella - so much so this qualifies as a humor cartoon - but you've got to love it whenever Vampi gets placed in the OTK position, because she's got it coming! The expression on Vampi's face, which seems to be saying "Nooooooo!" is probably the highlight of Yatz's drawing.