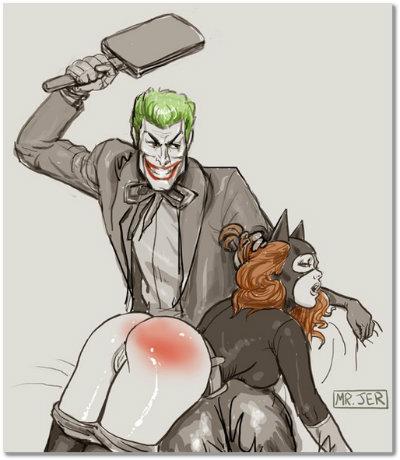 Batgirl's record against the Joker is now 0 for 5. We'd suggest she take up a new line of work, but we enjoy seeing her get spanked every time too much (shhh - don't tell anyone!). Art by Mr. Jer. Characters © DC Comics Inc. Posted by the Web-Ed on 09/06/2013.
After switching to a cartoon style last time for Joker Spanks Batgirl #4, Mr. Jer reminds us of just how good he is at drawing in a realistic mode with this fine rendering of a very submissive-looking Batgirl getting the paddle across her bare behind! The Joker has a firm grasp on her hair, but it's really not necessary as Batgirl seems perfectly content to drape herself over his knee (good OTK position, by the way). Actually, we're pretty content with this scene also, since there's really nothing we like better than seeing a wooden paddle applied to Batgirl's bare buttocks!
The Joker's features here somewhat resemble those of Cesar Romero, who played the character on the old Batman TV series, and he wears a delightfully deviant grin. His paddle is too wide (it looks to be about 5", where 4" is really the maximum, and 3 1/2" around optimal), and a little too long to be used OTK. In fact Mr. Jer may have realized this, for the right side of the target area is redder than the left - exactly what happens when too long a paddle is employed along with the OTK position (we have named this phenomenon "azimuth misalignment" in our articles on proper paddling technique).