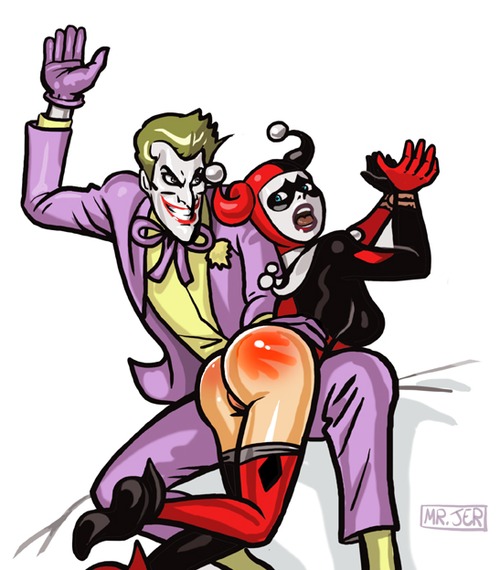 Art by Mr. Jer. Characters © DC Comics Inc. Posted by the Web-Ed on 05/31/2013.
We've discussed Harley Quinn's dysfunctional relationship with the Joker at length elsewhere, so we won't go through all that again here. But as we begin a four-part Joker/Harley mini-series with a nice, basic OTK spanking we can't help but observe how popular a character Harley has become among spanking artists. It's probably her shapely figure combined with her submissive nature and sexy costume (skin-tight ones like hers are ideal for spanking). She's also been portrayed as the spanker several times, and indeed we have another of those we'll be posting in the future, but to us it seems more natural for her to be on the receiving end.
Mr. Jer does a fine job all-around here: good OTK positioning and expressions on both the Joker and Harley, a nice bare bottom with a blazing red handprint, and just a touch of bondage with Harley's wrists being bound together.