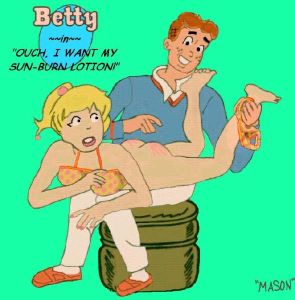 Sunburn lotion may help, but it isn't sunburn that caused that red bottom: Archie has obviously spanked Betty. Art by "Mason". Characters are © AP. Posted by the Web-Ed on 10/16/2015.
One of the great things about Archie's girls Betty Cooper and Veronica Lodge is that they both make good spankees but of different types. Veronica is of course the spoiled rich girl who needs an occasional comeuppance, whereas Betty is the sweet and submissive type. Betty looks nice and submissive here although the artist, Mason, has drawn her head a little too large and has her body oriented almost perpendicular to the way it should be, across Archie's lap from side to side. But it looks like a fun spanking nonetheless!
This is the only spanking art by Mason we have seen on CSR and we're not aware of any other.