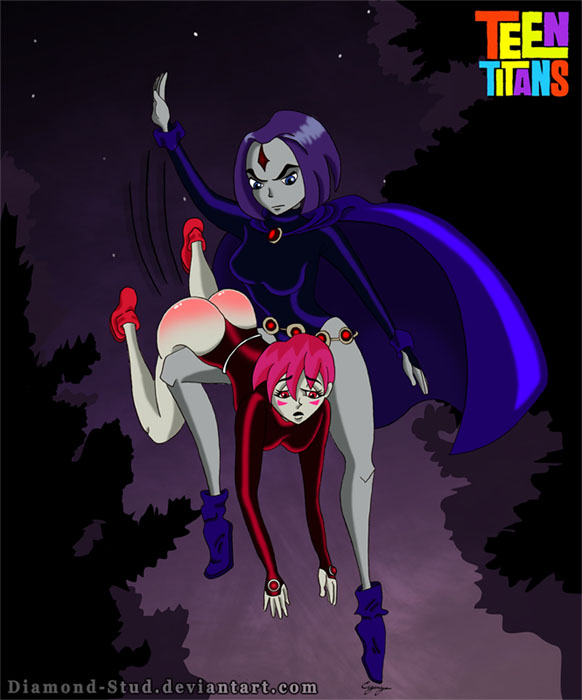 Art by Diamond-Stud. Characters © DC Comics Inc. Posted by the Web-Ed on 06/19/2015 (click to enlarge).
Although we generally like animated superhero cartoons, a lot of the modern stuff really turns us off and we don't follow it that closely. That's why we can't say off the top of our head how many cartoons there have been of the new Teen Titans, but we do know our spankee today is Red Raven from Teen Titans Go! The cartoon is very hard to describe - "silly" and "over-the-top" are the first terms that come to mind - but fortunately we don't have to know any more about it than that Red Raven is a clone of the original Raven and represents her anger. She often gets mad and beats people up, which is pretty good grounds for a spanking. And who better to administer it than Raven herself?
Decent variant OTK positioning here from Diamond-Stud, who utilizes the fact that Raven can fly and who makes her first appearance in this gallery (it won't be the last as we'll see another Titans-related work from her in the future). She has produced so much spanking fan-art and fan-fiction based on the sci-fi/fantasy genre that it's fair to presume she has a genuine interest in spanking. She does the expressions well here, and there's no doubt that Red Raven or at least a portion of her anatomy will be even more red after this spanking!