<!- IMAGE ->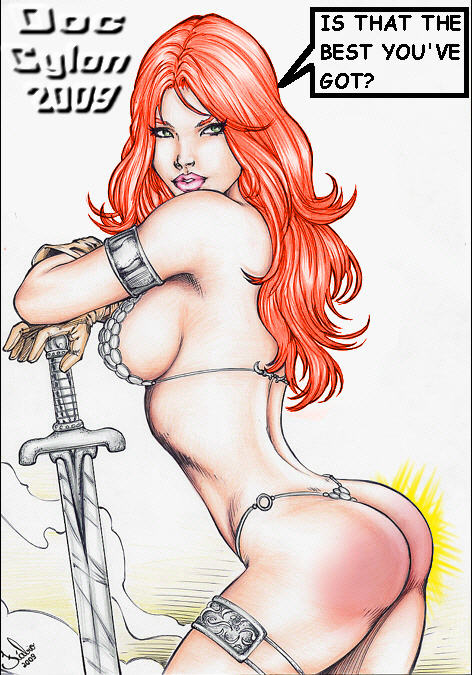 Red Sonja © Marvel Comics Inc. Posted by the Web-Ed on 01/29/2009
Doctor Cylon makes one of his periodic guest appearances outside his own gallery to give us this colored version of an absolutely gorgeous drawing of Red Sonja, in which he made sure she lived up to her name by coloring something red besides her hair. He also added the caption, which implies it will take a few more swats to tame her.
Red Sonja was originally created by Robert E. Howard (who also created Conan, the barbarian hero) and later adapted by Roy Thomas and Barry Windsor-Smith for the comic-book version Conan the Barbarian in 1973. We're not at all sure that metal bikinis were standard apparel for women during the Hyborian Age, but comic fans have never complained about this possibly inauthentic garb. Certainly this outfit is conducive to spanking, which is the important thing to us.
This is a beautiful drawing by an artist whose signature appears to be "Fabio" but who remains unknown to us.
Next Entry

Previous Entry