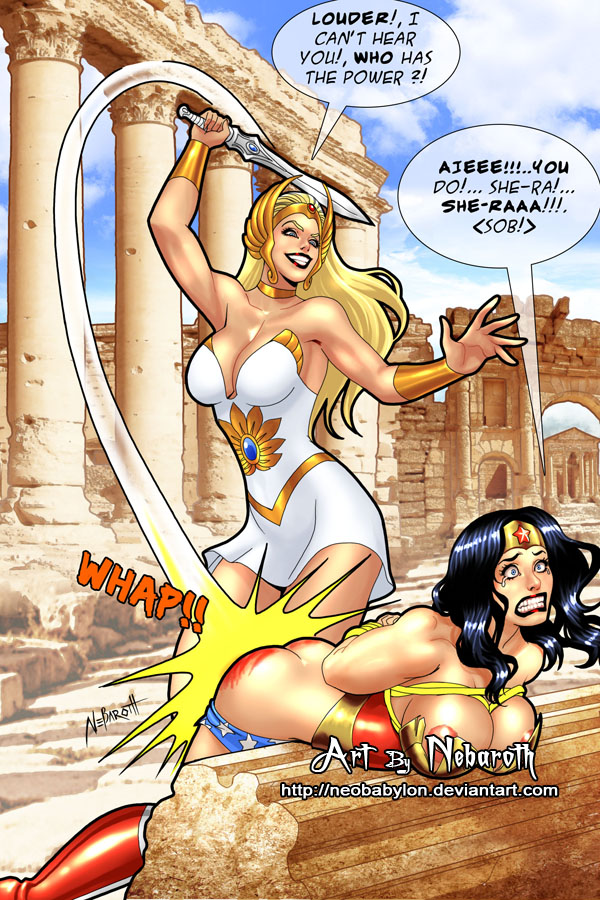 She-Ra has the power - to paddle Wonder Woman's behind! Art by Nebaroth. © Mattel Inc. and DC Comics Inc. Posted by the Web-Ed on 09/13/2013 (click to double-size).
Our previous examples of She-Ra spanking have been confined to her own cast of characters. Now it's time to see a She-Ra crossover spanking as she applies the flat of her sword to Wonder Woman's rear end! WW is restrained by her own magic lasso (of course) and well bent-over a fallen column with her famous star-spangled panties taken down for the occasion. There's no doubt from her expression that WW feels the swats to the point that she had no choice but to give in.
One thing that sets this work apart is the Top (She-Ra) forcing the Bottom (WW) to verbally acknowledge her submission; thus, Wonder Woman is paddled until she submits, sobbing that it is in fact her rival She-Ra who has the power - talk about "power exchange"! (This is apparently also an allusion to She-Ra's brother Adam, who upon being transformed into He-Man would always say "I have the power"). With its fine rendering of both characters, this is a superior bit of work all the way around, so it's really a pity that as far as we know this is Nebaroth's only foray into the world of spanking, done for an anonymous commissioner. We don't even know if he's still actively drawing.